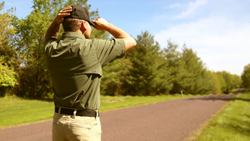 Propper's latest ultra-light Summerweight uniform is its lightest yet. Visit propper.com for details.
Saint Louis, Missouri (PRWEB) May 12, 2015
As a proven player in the tactical industry and a major uniform supplier to the Department of Defense, Propper knows tactical clothing and gear with precision. Propper's latest ultra-light Summerweight uniform is its lightest yet, making it ideal for hot days. The durable stretch fabric wicks moisture away from the body, keeping the wearer cool and comfortable without restricting mobility. The uniform is UPF 50, meaning it blocks 98% of the ultraviolet radiation hitting the garment, making it ideal for all-day sun protection.
The Summerweight set consists of tactical pants, shirts (long and short sleeve) and shorts available in black, khaki, olive and LAPD navy color options. The tactical pant offers rapid-access lay-flat cargo pockets on the upper thigh offer quick access to tools and supplies. The mesh-backed vent on the back of short and long sleeve shirt allow for breathability on hot days. The short has an 11" inseam, a total of 10 pockets for gear storage and mesh lining for comfort.
The Propper Summerweight Tactical Uniform is available now online and in stores. Shop, learn more and view the product video at propper.com.
About Propper
Since 1967, making tactical gear with a purpose has been a way of life for Propper, starting with their first government contract with the U.S. Navy. Today, Propper designs and manufactures tactical clothing and gear that keeps military, tactical, law enforcement, and public safety professionals moving, whether they're in the service, on the job, or off for the weekend. To shop or learn more, visit propper.com.