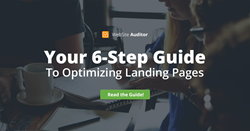 (PRWEB) April 21, 2015
Link-Assistant.Com, the SEO tools technology brand and the company behind SEO PowerSuite, announced today the release of a landing page optimization guide.
Most often site optimizers have a list of targeted keywords and particular landing pages they want to rank for these keywords. It means that the next step is about on page SEO, i.e. about making sure that search engine bots understand what the landing pages are about, acknowledge their value and give them high rankings in search results. On page SEO is really no rocket science, but it does require strategy and consistency.
Link-Assistant.Com's guide splits the landing page optimization process into 6 straightforward steps:
1. Determine the status quo
Before optimizing a landing page for the target keywords, one needs to determine how well it is optimized at the moment, and which specific areas of on-page SEO one should be focused on in the first place.
2. Work on the title tag
SEO-wise, the title tag is one of the most important page elements. It lets search engines know what a page is about, and the tag's contents are commonly used as part of one's listing snippet is search results.
3. Brush up the meta description
Just like the title tag, meta description is important: it is often used as preview snippets for sites' listings in search results.
4. Create killer content (and don't forget the keywords)
It is crucial for the content to be valuable and unique, however, smart use of keywords in the content is also important. It lets search engines understand which search queries the content is most relevant to.
5. Use the right alt text for images
Alternative attributes for images tell search engines what images are about.
6. Go through technical factors
Webmasters should check the tech side of the specific pages they're optimizing, especially given that they were encouraged to make some changes to their HTML as part of the previous steps.
Detailed instructions on implementing each of these steps are available at http://www.link-assistant.com/seo-workflow/page-optimization.html.
Stay tuned for more expert guides from Link-Assistant.Com – download SEO PowerSuite for free and get subscribed to the company's newsletter. Also follow the developers on Facebook fb.me/LinkAssistant, Twitter @LinkAssistant or Google Plus gplus.to/LinkAssistant.
About Link-Assistant.Com
For over a decade now, Link-Assistant.Com has been developing SEO PowerSuite in line with the latest SEO industry trends. The company has over 500,000 clients worldwide, who choose SEO PowerSuite for its relevancy, accurate data and reputation for being forward-thinking and knowledgeable participant in the market. Along with building top-notch SEO software, the company aims at sharing their SEO expertise with their clients, helping them optimize their sites penalty-free and make best use of feature-rich SEO PowerSuite.