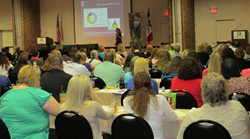 Adverse childhood experiences have a tremendous influence on the health and well being of children.
(PRWEB) April 22, 2015
Orchard Place, mental health experts for Iowa's children recognizes the role trauma plays in young lives. During the past 4 years hundreds of professionals who work with children and families including physicians, nurses, social workers, mental health counselors, juvenile justice personnel, attorneys, educators and business leaders have been a part of this conference that draws hundreds of people from around the country.
"Research has proven that adverse childhood experiences or 'ACEs' have a tremendous influence on the health and well-being of children and often evolve into leading causes of disease and disability in adulthood," said Trauma Informed Care Project coordinator, Gladys Noll Alvarez LISW. "More professionals are becoming aware of the social impact of Trauma, and are working to prevent, identify, and treat trauma-related conditions."
Guided with an informed perspective on trauma and ACE's treatment incorporates greater understanding of the effects of trauma on victims. Physical, psychological and emotional safety helps survivors rebuild their sense of control and empowerment.
This year's conference features the following speakers and topics:
J. Stuart Ablon Ph.D. – Collaborative Problem Solving as Trauma-Informed Care: The Impact of Trauma on Brain Development and What to Do about it.
Dipesh Navsaria, MD – Early Experience Elevate Everything: Toxic Stress, Relationships and the Development of Children.
Avis Smith, LCSW – Trauma Smart: An Innovate Approach to Overcoming Childhood Trauma
Janet Nickell Horras BA – What is Lemonade for Life?
Marva L. Lewis, Ph.D. – The Elephant in the Room – Historical Trauma of Slavery
Jerry B. Yager, Phyd. – How Experiences Change our Biology and Influences our Behavior: A Trauma-
Informed Systems Approach to Juvenile Justice
Sara McMillian, LMSW – Trauma Sensitive Yoga
Rebecca Brown, MSW, RSW - Vicarious Trauma, Compassion Fatigue and Resilience.
The 5th Annual Psychosocial Trauma & Juvenile Justice Trauma Informed Care Conference will be held June 9 - 11 at the Airport Holiday Inn, Des Moines, IA. The conference if open to professionals who work with children and families, business leaders who care about employee health/safety and indivuals who care about community resilience.
An evening reception featuring Dr. Marva Lewis of Tulane University will also take place as part of the conference.
For more information on the conference or to register, visit: http://tinyurl.com/TIC2015home
About Orchard Place:
Orchard Place is the oldest locally-based charity in Des Moines providing mental health treatment and expertise serving Iowa's kids. Our inpatient, outpatient and community programs serve nearly 10,000 children from birth to age 22 annually. Four operating divisions work under the Orchard Place umbrella of services: Child Guidance Center, Orchard Place Campus, PACE Juvenile Center and the Integrated Health Program. More information can be found at http://www.orchardplace.org