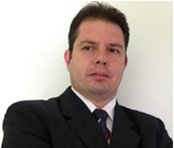 Cranston, RI USA (PRWEB) April 21, 2015
AIM Solder, a leading global manufacturer of solder assembly materials for the electronics industry, is pleased to announce the appointment of Oglesio Manetti Jr. to the position of Regional Sales Manager, Brazil. Oglesio will promote AIM's full line of solder assembly materials to the company's growing customer base in Brazil.
With over 27 years of experience in the electronics industry, Oglesio possesses extensive knowledge of various market segments and their trends and a deep understanding of customer needs in Brazil. His commercial and technical capacity to identify and propose solutions to complex problems will be a great resource for AIM's existing and potential customers. Oglesios's skills and expertise align perfectly with the advantages offered by AIM, further assurance that customers of AIM solder products will continue to receive unparalleled service and expert support in this important market.
"We are excited for Oglesio to join our global sales team," said David Suraski, AIM's Executive Vice President, Assembly Materials Division. "Brazil is a very important, expanding market. I am confident that Oglesio's expertise will be a great addition to AIM's manufacturing and distribution network that is already in place."
AIM has been aggressively increasing its direct presence in the Brazilian market to support the growing demand for its products there. The company recently signed Easy Comércio LTDA as a distributor of its full line of solder products within the Manaus area. Additionally, Cobix Industry and Commerce of Metals Ltda. Based out of Sao Paulo serves as AIM's local licensed manufacturer and distributor.
Based in Sao Paulo, Oglesio may be reached at + 55 (11) 4437-3140 or email omanetti(at)aimsolder(dot)com.
About AIM
Headquartered in Montreal, Canada, AIM Solder is a leading global manufacturer of assembly materials for the electronics industry with manufacturing, distribution and support facilities located throughout the world. AIM produces advanced solder products such as solder paste, liquid flux, cored wire, bar solder, epoxies, lead-free and halogen-free solder products, preforms, and specialty alloys such as indium and gold for a broad range of industries. A recipient of many prestigious SMT industry awards, AIM is strongly committed to innovative research and development of product and process improvement as well as providing customers with superior technical support, service and training.
For more information about AIM, visit http://www.aimsolder.com.
Upcoming Events:
April 21-23, 2015 – NEPCON China – Shanghai China
May 5, 2015 – SMTA Michigan Expo & Tech Forum – Holland, MI USA
May 5-7, 2015 – SMTA Hybrid - Nuremburg, Germany
May 19, 2015 – SMTA Carolinas Expo & Tech Forum – Dallas, NC USA