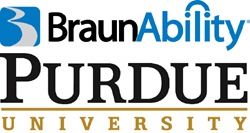 "Together, we can create breakthrough products in terms of safety and functionality."
West Lafayette, IN (PRWEB) April 21, 2015
BraunAbility, the leading manufacturer of wheelchair accessible vehicles and wheelchair lift systems, is partnering with Purdue University to catalyze world-class innovation of mobility products.
Two projects have been commissioned to improve the overall design, engineering, and safety of commercial wheelchair lift systems, representing the beginning of an immersive research and development partnership. Team participation is diverse and cross-functional, with members hailing from North America, India, Taiwan, China, Sweden, and the United Kingdom, and disciplines ranging between Engineering, Technology, Business, and Industrial Design.
"Purdue faculty and students are among the best in the world by any measurement," said BraunAbility President Nick Gutwein. "Together, we can create breakthrough products in terms of safety and functionality."
The alliance of the two organizations, both located in northern Indiana, combines human-based research with design aesthetics and state-of-the-art engineering analysis to create a competitively advantaged wheelchair lift for international markets. Purdue University is also recognized worldwide as a leader in fluid power, materials science, and advanced manufacturing, each representing future areas of collaboration with BraunAbility as the partnership grows. The university is committed to global research collaboration, specifically on projects with significant societal impact. Purdue has formed similar partnerships with other manufacturing leaders, including GE, Boeing, and Caterpillar.
"We are excited about this partnership's future for both parties, and we are just getting started," said Director of Lift Product Portfolio Phill Bell. "Over time we will grow our relationship to design and innovate world-class mobility products while also providing real-world educational opportunities for Purdue students."
About BraunAbility
BraunAbility is the world's leading manufacturer of wheelchair-accessible vans, ramps and wheelchair lift systems. These products enable people with physical disabilities to regain mobility and lead active and independent lives. The company offers the most diverse model lineup in the industry, including the most popular minivan models from Dodge, Chrysler, Honda and Toyota. For more information about our wheelchair-accessible vehicles, please visit http://www.braunability.com.