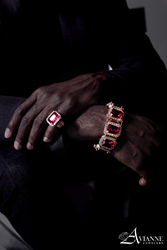 The Royal Collection is very meaningful to everyone at Avianne and Co, the collection is created and designed to make people feel powerful, as powerful as Kings and Queens
New York, NY (PRWEB) April 22, 2015
The Avianne & Co. team is excited to announce their first Lookbook of its exclusive Royal Collection Line. A classic-meets-modern collections of handmade jewelry, crafted in the bests quality of gold, diamonds and gemstones. The assortment of these one-of-a-kind pieces are made for women and men, it was first designed exclusively for Birdman, co-founder of cash money records.
Established in 1999, Avianne and Co has become one of the largest jewelry stores on the East Coast. After two decades in the industry, the master jewelers have designed and built an exquisite gallery of the finest diamond jewelry from their flagship store located in the heart of New York City. The design and production of all jewelry pieces are handled in-house from wax model making, molding to gold casting and diamond setting, to assure the finest quality products
The Royal Collection represents the team's creativity as the industry's trendsetters, always mining their archives for inspiration and diving into new product categories. The result: a passionate collection inspired by Royalty, reflected by elegance, class and most importantly power.
"The Royal Collection is very meaningful to everyone at Avianne and Co, the collection is created and designed to make people feel powerful, as powerful as Kings and Queens," mentioned Joe Avianne, CEO of Avianne & Co and designer of the Royal Collection.
Check out the look book — pin your favorite pics— and get to know the team at Avianne & Co.