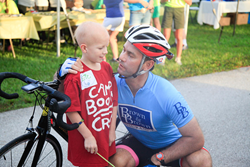 "We are so proud to be a part of this great cycling event and to help Camp Boggy Creek." -- Cary D'Ortona, COO and CFO, Arnold Palmer Hospital for Children
Eustis, FL (PRWEB) April 21, 2015
Registration is now open for the 5th Annual Challenge Ride, a cycling event benefiting Camp Boggy Creek. The event will take place on Saturday, September 12, 2015. Cyclists can choose either a 40 or 60 mile course through scenic Lake County, or a 15-mile off road course through the Seminole State Forest.
Cyclists will start and finish their ride at Camp Boggy Creek in Eustis, FL. The day will include breakfast at Camp, stocked rest stops and SAG vehicles, along with a catered lunch for all cyclists and their guests, compliments of Golden Corral. Family and friends are welcome to cheer participants on and attend the post-event luncheon.
Camp Boggy Creek is proud to announce Arnold Palmer Hospital for Children as the Presenting Sponsor for the 5th Annual Challenge Ride. Cary D'Ortona, COO and CFO of Arnold Palmer Hospital for Children and a Camp Boggy Creek Board member noted, "Many of our patients at Arnold Palmer Hospital have benefited from time at Camp Boggy Creek and I know what that experience has meant to them and their families. We are so proud to be a part of this great cycling event and to help Camp Boggy Creek raise awareness and funds to support this amazing camp and to continue providing these experiences to children in Florida."
The fundraising goal for the Challenge Ride is $225,000. The funds raised will enrich the lives of children with serious illnesses and their families by creating a free, safe and medically-sound camp environment. The registration fee is $40 per rider which applies to the total fundraising minimum of $250 per rider. Upon registration, each rider receives a personal fundraising webpage, from which she/he can send out emails to friends and supporters, and to which those friends can go online to make donations on the rider's behalf. For more information or to register for the Challenge Ride please visit http://www.campboggycreek.org/challengeride. "We are thrilled to have Arnold Palmer Hospital for Children join us as our presenting sponsor," shared June Clark, President and CEO for Camp Boggy Creek. "As one of our Founding Hospitals, Arnold Palmer Hospital has always been a strong partner, particularly supporting the medical component at camp. This is another example of their generosity to help more children with serious illnesses have the opportunity to experience camp."
To date, other sponsors for this year's event include: Wishes by Wyndham, Wyndham Vacation Ownership, Golden Corral, SeaWorld, OutSpoke'n Bike Shop, Private Wealth Management, Florida Hospital for Children and Quarles and Brady, LLC. For more information about being a sponsor, contact Jessica Shefferman at jshefferman(at)campboggycreek(dot)org.
###
About Camp Boggy Creek
Founded in 1996, Camp Boggy Creek is a year-round medical camp for children with serious illnesses. Co-founded by actor/philanthropist Paul Newman and General H. Norman Schwarzkopf, the camp offers week-long summer sessions and family retreat weekends at no cost to the children or families. Located in Eustis, Florida, the 232-acre nonprofit serves children ages 7–16 that have been diagnosed with chronic or life-threatening conditions. The camp is entirely funded by generous donations from individuals, corporations, foundations and healthcare partners. Camp Boggy Creek is a proud member of SeriousFun Children's Network. Learn more by visiting: campboggycreek.org.