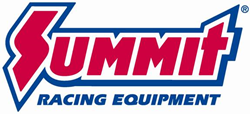 Tallmadge, OH (PRWEB) April 23, 2015
With a tired Dodge Ram pickup in the shop and just 500 bucks in their pockets, PowerNation TV's Truck Tech guys set out to give the truck a makeover. Now, anyone can paint their own full size pickup just like the Truck Tech crew did with these PowerNation TV Truck Tech Ultra-Cheap Dodge Ram Paint Combos.
The results were pretty darn nice as seen in Episode 5 of Truck Tech.
Paint Prep Combo
Any experienced automotive painter will say the job involves 99 percent prep work and one percent actual painting. With that in mind, the Truck Tech team gathered the necessary cleaners, fillers, masking materials, and surface prep products needed to ensure the resulting finish would be fantastic. The Paint Prep Combo includes:

Evercoat Rage Xtreme lightweight body filler
SEM Metal Bite finish glaze
• Summit Racing surface wash

Summit Racing wax and grease remover
3M Scotch-Brite sanding pads (set of 20)
• Astro Pneumatic wheel covers

Dura-Block six inch masking paper log
Dura-Block 12 inch masking paper log
Dura-Block 18 inch masking paper log
3M .75 inch masking tape
3M 1.5 inch masking tape
DeVilbiss Whirlwind disposable air filters
Paint Finish Combo
This combo is based on Summit Racing's 2-Stage Basecoat-Clearcoat Paint System. The paint is easy to use, and flash time between coats is just minutes. In fact, the basecoat will be ready for the 2-Stage System clearcoat in less than an hour. The combo includes:

Pure White basecoat paint
High-solids clearcoat
2K urethane primer surfacer
2.1 VOC primer sealer
2-Stage basecoat reducer
2-Stage clearcoat hardener
Urethane activator, medium and slow formulations
Urethane reducer, medium and slow formulations
Summit Racing Paint Starting Kit
Don't like the Pure White basecoat paint Truck Tech chose? Summit Racing offers 37 other colors of its 2-Stage Basecoat-Clearcoat Paint.
Summit Racing Equipment
SummitRacing.com
1-800-230-3030