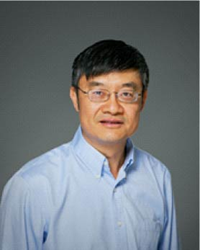 Fremont, CA (PRWEB) April 23, 2015
Applied Spectra, Inc, a leading supplier of Laser Induced Breakdown Spectroscopy (LIBS) and Laser Ablation (LA) instruments, welcomes Dr. Zhenhuan Chi to the company as Asia Sales Director.
Dr. Zhenhuan Chi will oversee direct sales of LIBS and laser ablation products throughout much of Asia. His familiarity with the region and understanding of local industries will be invaluable when promoting Applied Spectra's instruments and assisting the company's team of scientists to develop new features and future products. Dr. Chi's extensive research experience in material analysis, instrument development, and environmental analysis using spectroscopic methods provides the technical background necessary to drive sales, as well as identify new Asian markets.
"Our hire of an Asia Sales Director is consistent with our long term vision of bringing regional focus in nurturing new business opportunities and driving sales growth", said Dr. Jong H. Yoo, Executive Vice President & GM of Applied Spectra. "Dr. Zhenhuan Chi brings to our sales team fifteen plus years of laser spectroscopy product sales experience. I am confident that his technical expertise in laser spectroscopy as well as his understanding of culture in Asian countries will position us well for future business growth in Asia."
Dr. Zhenhuan Chi previously worked as a regional sales manager in the Spectroscopy Products Division of Renishaw, Inc. He did pioneering work on the quantitative analysis of protein secondary structures with Raman spectroscopy and chemometrics and has over twenty publications in journals, including the Journal of Physical Chemistry, Journal of the American Chemical Society, and Biochemistry. Formerly a Research Associate at the Oak Ridge National Lab, Dr. Chi holds a B.Sc. degree from Peking University and Ph.D. degree from the University of Pittsburgh, both in Chemistry.
About Applied Spectra
Applied Spectra is a leading supplier of laser-based analytical instruments. ASI's unique, highly automated products harness the latest in laser ablation analysis techniques. Applied Spectra simplifies the process of elemental chemical analysis, while delivering rapid, high-precision results that are environmentally friendly. Founded in 2004, ASI has a manufacturing, research and development facility in Fremont, CA, USA. Learn more at http://www.appliedspectra.com.