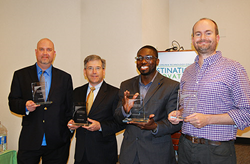 (PRWEB) April 22, 2015
The Northern Virginia Technology Council (NVTC) Technology Innovations Committee, in partnership with Capital Business, will host Destination Innovation on April 29 at The Washington Post headquarters in downtown D.C. The event highlights technology advancements emerging from our region through an exhibition, networking, industry speakers and innovation pitches. During the event, SAIC's Tony Moraco and 1776's Paul Singh will share remarks on innovation and technology development.
In addition, 16 companies, selected via online voting on the Capital Business website, will each be giving a two minute pitch about their innovative technology, including why it is disruptive and how it solves a real-world problem. Event attendees will have the opportunity to vote for their favorite company in each category (apps and platforms; safety and security; health, education and energy; and wearables and robotics). The top two companies from each category will move on to the final round, during which they will compete head-to-head answering questions from a panel of industry judges.
The following 16 companies have been selected to compete in four categories:
Apps and Platforms:
Avanade Inc.
Fairfax County Public Schools
The George Washington University, Division of Information Technology, Business Intelligence Services
HumanTouch
Safety and Security:
Blue Ridge Networks Inc.
INDMEX Aviation
R2M Innovations LLC
Unisys
Health, Education and Energy:
Arbiom Inc.
Kajeet Inc.
Noblis
Perigean Technologies LLC
Wearables and Robotics:
Asius Technologies
CyberTimez
Qore Performance
Robotic Research LLC
Final Round Judges:
Sherry Altman, Vice President, Strategic Innovation Group, Booz Allen Hamilton
Nelson Ford, President & CEO, LMI
Matthew Koll, President and Co-Founder, 410 Labs
DATE:
April 29, 2015
TIME:
1:00 - 2:00 p.m. Registration and Networking
2:00 - 6:30 p.m. Program
LOCATION:
The Washington Post
1150 15th Street NW
Washington, DC
REGISTRATION:
To register as a member of the press, please contact Sarah Jones at
703-904-7878 ext. 207 or email sjones(AT)nvtc.org.
The event is free for press, but advanced registration is required. Press credentials are required for entry.
Click here to learn more about Destination Innovation.
# # #
The Northern Virginia Technology Council (NVTC) is the membership and trade association for the technology community in Northern Virginia. As the largest technology council in the nation, NVTC serves about 1,000 companies and organizations, including businesses from all sectors of the technology industry, service providers, universities, foreign embassies, non-profit organizations and government agencies. Through its member companies, NVTC represents about 300,000 employees in the region. NVTC is recognized as the nation's leader in providing its technology community with networking and educational events; specialized services and benefits; public policy advocacy; branding of its region as a major global technology center; initiatives in targeted business sectors and in the international, entrepreneurship, workforce and education arenas; the Equal Footing Foundation, a 501(c)(3) nonprofit charity that serves local area youth; and The Entrepreneur Center @NVTC, which mentors new technology entrepreneurs. Visit NVTC at http://www.nvtc.org.