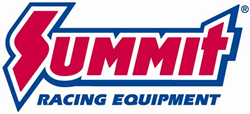 Tallmadge, OH (PRWEB) April 30, 2015
These new diesel products available at Summit Racing will increase horsepower and performance and help improve braking performance when towing or hauling heavy loads.
Brodix WD Series Cylinder Heads for GM Duramax Diesel
Using a unique port design, these all-new cylinder heads flow more air than stock, and deliver more horsepower. The heads are a direct bolt on to factory Duramax engine blocks and use all standard components. For even higher performance gains, Brodix offers heads with relocated valve centerlines to allow for larger valves.
Snow Performance POWER-MAX Systems
By using a sophisticated water-methanol injection technique, the new Snow Performance POWER-MAX System can add over 65 extra horsepower while simultaneously reducing Exhaust Gas Temperatures (EGTs) by a whopping 200-300 degrees F. It's available as a universal kit and as application-specific kits for GM Duramax, Dodge Cummins, Ram EcoDiesel, and Ford Power Stroke.
Banks SpeedBrake Systems
Banks Power has developed an electronic braking system that can be set to maintain consistent speed—reducing brake wear and giving heavy haulers some much-needed peace of mind. Think of Banks' SpeedBrake system as "cruise control" for a vehicle's brakes. In fact, Banks reports that downhill speeds can be reduced by over 75% without the driver ever touching the brake pedal.
Summit Racing Equipment
SummitRacing.com
1-800-230-3030