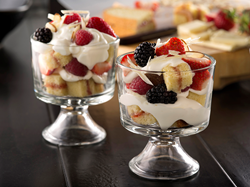 Oklahoma City, OK (PRWEB) April 21, 2015
Officials with the Made in Oklahoma Coalition have announced the three recipes for April using ingredients from Made in Oklahoma Coalition food manufacturers. This month's recipes include creamy dreamy berry trifle, cornmeal pancakes, with bacon and Oklahoma BBQ meatloaf.
April's Made in Oklahoma Coalition food manufacturer's include Head Country, Shawnee Milling Company, Hiland Dairy Foods, Griffin Foods, Andrew Honey Bees, Choc Beer and Bar-S. The April recipes released by the Made in Oklahoma Coalition would be a great addition to any table. The recipes are:
Creamy Dreamy Berry Trifle
Trifle
Pound Cake, cubed (see below)
¾ cup Garden Club Red Plum Jam
4 cups Hiland Whipping Cream
1 (3.4-ounce) package instant white chocolate pudding mix
1 pound strawberries, hulled and sliced
2 cups raspberries
¼ cup sliced almonds
3 ounces white chocolate, chopped
Pound Cake
2 sticks Hiland Butter
1 cup Sugar
4 ea LG Eggs
1 TBSP Griffin Vanilla
1/4 tsp Baking Powder
2 cups Shawnee Mills, all-purpose Flour
Pound Cake Directions
Preheat oven to 350. Butter and flour a (8 1/2-by-4 1/2-inch) loaf pan; set aside.
Cream the butter and sugar until light and fluffy. Add eggs one at a time, beating well after each addition; add vanilla. Lower the mixer speed and add flour 1/2 cup at a time being careful not to over mix. I will often finish the batter by hand with a folding action using a spatula.
Bake for one hour using toothpick test. Let cool for 15 minutes, Edge the pan with sharp knife and remove and allow cooling on rack.
Variations:
You may wish to add a cup of nuts or 1/2 cup of dried fruits
Using an 8" X 8" pan makes a nice flattened loaf and is ready from the oven in 45 - 50 minutes.
Trifle Assembly
Cut pound cake into 1-inch cubes, and set aside. Spread jam between cubes of pound cake to make mini cake sandwiches. Set aside.
In a large mixing bowl, slowly begin mixing whipping cream with an electric mixer. Mix on medium-high speed until mixture begins to thicken. Slowly add pudding mix, continuing to mix until thickened but not stiff.
In a large glass bowl or trifle dish, layer 1/3 pound cake pieces, 1/3 whipped cream mixture, 1/3 strawberries and raspberries, 1/3 almonds and 1/3 chopped chocolate. Continue layering, ending with chopped chocolate
Cornmeal Pancakes with Bacon
2/3 cup Shawnee Mills Yellow Cornmeal
1/3 cup Shawnee Mills Best All-Purpose Flour
1 teaspoon baking powder
1 tablespoon sugar
1/2 teaspoon salt
1 cup Hiland Milk
1 large egg, slightly beaten
2 tablespoons Andrew Honey Bees Cinnamon Cream Honey
3 tablespoons Hiland Unsalted Butter, melted
1 cup Griffin's Original Syrup
1. Sift all dry ingredients in a bowl. Add milk, egg, honey and butter, stirring until just combined.
2. Pour by cupful onto a greased hot griddle. Turn when bubbles form on top of pancakes.
3. Cook until the other side is golden brown.
Serve pancakes with additional Hiland Butter and Griffin's Syrup.
Oklahoma BBQ Meatloaf
1 1/2 pounds ground beef
1/2 pound J.C. Potter regular sausage
20 saltine crackers
crumbled 1 large egg, beaten
1/4 cup Choc beer or Hiland milk
1/2 teaspoon Head Country All-Purpose Championship Seasoning
2 tablespoons chopped fresh parsley
1/4 cup chopped onion
1/2 teaspoon salt
1/4 teaspoon pepper
8 slices Bar-S Bacon
1/4 cup Head Country Bar-B-Q Sauce
Combine ground beef, sausage, crackers, egg, Choc beer or Hiland milk, Head Country seasoning, parsley, onion, salt and pepper in a large bowl. Shape into two loaves, and place side by side in a 9-by-13-inch baking dish. Lay Bar-S Bacon over meatloaves, wrapping the ends underneath each loaf. Spread Head Country Bar-B-Q Sauce over top. Bake at 350 degrees for 1 hour. Allow cooling slightly before serving.
All ingredients for the Made in Oklahoma products can be found at your local grocer. The Made in Oklahoma Coalition offers an array of recipes utilizing mostly Oklahoma made ingredients. For additional recipes and information on MIO members and their food products, please visit http://miocoalition.com/ or visit them on Facebook at https://www.facebook.com/MadeinOklahomaCoalition.
# # #
About Made in Oklahoma Coalition
Providing a marketing and promotional platform to assist more than 45 Oklahoma food manufacturers, the Made in Oklahoma Coalition (MIO) builds brand preference and loyalty for members and its products. The MIO Coalition-member companies create a positive economic impact on the Oklahoma economy by employing more than 28,000 Oklahomans. The member-companies of MIO generate over $4.1 billion in annual sales for the state's economy. The MIO Coalition continues to expand the footprint of Oklahoma's food manufacturing sector through business retention and growth. For more information about MIO and its member companies, please visit http://www.miocoalition.com.
Media Contact:
Krista Bruce | 405-615-1526 | kbruce(at)kochcomm(dot)com