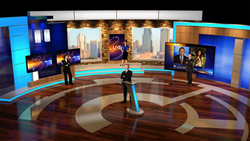 Our shared mission, with FX and Hybrid, as we brought the virtual set on-line, was to blur the lines between real and virtual.
(PRWEB) April 22, 2015
WBTV Charlotte has added the latest virtual studio technology with Hybrid TV's Neon solution. The Neon Trackless VS Solution is an all-in-one real Virtual Set media production center that is simple and powerful. It relies on Hybrid's Krypton 3D engine and Ozone external control application. Using fixed camera signals on a green screen, Neon allows astonishing virtual camera motions such as virtual roll, pan, traveling and crane movements.
WBTV launched an entire new FX Design Group hard set combined with this versatile virtual area for the flexibility and storytelling that stations crave. The virtual design resembles the hard set with some specific distinctions. It allows WBTV's News Department a tableau of possibilities from breaking news, weather events, elections, special coverage and a variety of uses.
FX Design Group added this virtual solution in the beginning of its design planning stages. Mack McLaughlin, CEO and Creative Director of FX advises that having the 2 versions – hard set and virtual set - give TV Stations the utmost in technology in preparing for the future and the best in flexibility for the ever-changing broadcast environments.
"Talent interaction in a Neon environment is becoming a critical story-telling tool," said Olivier Cohen, CEO of Hybrid TV. VR, AR, real-time 3D graphics, motion control and touch screen tablets are all part of the package to bring news content to life."
"Our shared mission, with FX and Hybrid, as we brought the virtual set on-line, was to blur the lines between real and virtual, so the viewer experience is enhanced well beyond what any station can do with a hard set alone," said Dennis Milligan, WBTV News Director. "This effectively doubles the creative space available to producers."
# # #
About Hybrid
Hybrid is a leading manufacturer of broadcast production technologies. The company's mission is to develop solutions and products that allow the digital media market to produce value-added content within an integrated workflow. Our product range includes virtual studio and augmented reality solutions and broadcast robotic camera supports. Hybrid consistently develops new products and solutions that push the limits of content creation while providing a clear rationalization of costs. Further information is available at http://www.hybridtv.tv.
About FX DESIGN GROUP:
FX Design Group is a design company delivering projects worldwide in broadcast for News, Talk Shows, Lifestyle, Sports and Entertainment programming. FX gives clients access to a complete compliment of set design, virtual design, motion graphic design and branding, fabrication and installation services, as well as lighting design and lighting gear – all from one source. The FX collaborative process focuses on creative synergy, versatility and logistical efficiencies to maximize clients' budgets, aesthetics and multi-functionality. To learn more about FX Design Group please visit http://www.fxgroup.tv.
About WBTV:
WBTV is owned by Raycom Media, Inc. Raycom, an employee-owned company, is one of the nation's largest broadcasters and owns and/or provides services for 53 television stations in 37 markets and 18 states. Raycom stations cover 13.1% of U.S. television households and employ nearly 4,000 individuals in full and part-time positions. In addition to television stations, Raycom owns Raycom Sports (a marketing, production and events management and distribution company), Tupelo-Honey Productions (a NY-based production company), Limerick Studios (a Charlotte, NC-based motion graphics design house), and Broadview Media (a post production/digital signage company based in Montgomery, AL). Raycom is also responsible for the design and hosting of Alabama's Robert Trent Jones Golf Trail website. Raycom owns over-the-air syndication, regional cable, and digital media rights to Atlantic Coast Conference Athletics.