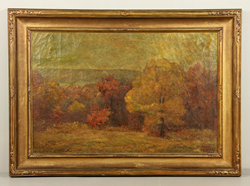 Beverly,Massachusetts (PRWEB) April 22, 2015
On April 12th, one of the first sunny and warm days of spring it was surprising to see a large audience filling the auction gallery at Kaminski Auctions for the collection of former Secretary of State Alexander Haig. The sale was a huge success; all lots were sold unreserved, with close to a 90 % sell through rate, and excellent prices achieved in all collecting categories.
The top lot of the sale was a wonderful fall landscape by the noted artist T.C. Steele, the painting came form a California collection and brought well above it's auction estimate of $750-$1,250 to bring $16,800 after spirited bidding from the floor and Internet. A colorful painting by Elie Anatole Pavil (Ukrainian, 1873-1948) from a Kiev, Ukraine estate of a boisterous cabaret scene also drew considerable attention and sold in the end for $94000 more than doubling its pre auction estimate of $2,000-$3,000.
There was significant interest prior to the sale in General Haig's rare 1995 S320 Mercedes Cabriolet coupe convertible. Known to be his pride and joy, the car was a gift from the German government to Haig. Imported specifically for him and driven only 37,000 miles, it drew intense Internet bidding to see the price rise to $14,400.
Perhaps the most coveted lot of the sale was an 18 karat yellow gold Patek Phillipe watch. With over 6 phone bids and significant interest on the Internet the fine timepiece finally sold for $10,800. Other jewelry top lots included Alexander Haig's extraordinary tuxedo and cufflink set from Chaumet in Paris that sold for $3,600.
Featured as a U.S. auction find in the Antiques Trade Gazette in London, an 18th/19th Italian ebonized Renaissance Revival cabinet with intricate bone detail featuring classical elements was finally hammered down at $9,600. The European exposure brought considerable interest to the unusual piece.
The star Asian entry in the sale was a surprising antique Chinese enameled silver necklace that measured 60 inches long and was made of natural pods that looked like caved beads. The rare piece valued at $300-$500 sold for $6,600.
Royal Vienna and Sevres porcelain and silver continue to be strong collecting categories at Kaminski Auctions with a Royal Vienna cobalt urn selling for $4,800, while an 18th century silver dessert service in a fitted rosewood case with brass banding and decorative inlay, purchased from the Duke of Cumberland collection and previously sold at Sotheby's in 1933 brought $3,960.
Discovered in a home holding plastic flowers, a rare monumental Louis Comfort Tiffany (Lot #8072) pottery vase sold for $2,880. All prices quoted include buyer's premium. These and all prices realized are available on the Kaminski Auctions website at http://www.kaminskiauctions.com.
Kaminski is also pleased to announce it is a planning an informative evening series on "How to Bid and Buy at Auction" the first is planned for Wednesday, April 29th and the second for Wednesday, May 13th, both starting at 7:00pm. All attendees who are new to the auction world and are first time buyers receive a $25.00 auction credit on their first purchase. For more information or to sign up to attend please email dcriva(at)kaminskiauctions(dot)com or call 978-927-2223 ext. 500.