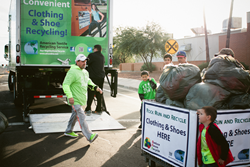 "Its always exciting to share sustainable practices with runners at such a high energy event. I get a kick out of dressing up in kooky green fairy gear and educating our community about textile recycling." - Chris Christensen
Nashville, TN (PRWEB) April 23, 2015
American Textile Recycling Service (ATRS) is set to ROCK RUN RECYCLE for the 3rd year at the St. Jude Country Music Nashville Marathon on April 23-25th. The campaign challenges runners, participants and spectators to bring gently used, out of season and unwanted running gear and shoes for onsite recycling instead of throwing them away.
Over 30,000 registered runners are expected to participate in the marathon and half-marathon. Look for the company's fun, friendly Green Fairies at the Health and Fitness Expo and volunteer teams in signature ATRS CLOTHING & SHOE RECYCLING HERE T-Shirts at the corrals collecting warm-up gear before the race. Every pound collected at the 3-day event is weighed for reuse, redistribution or recycling and directly benefits local charitable partner, MADD Tennessee. The ATRS Clothing & Shoe Recycling Partnership with MADD TN is also in its 3rd year and provides much needed funding for advocacy programs and facilities serving local victims of drunk driving and their families.
"Its always exciting to share sustainable practices with runners at such a high energy event," says Chris Christensen, a Nashville resident and ATRS community recycling advocate. "I get a kick out of dressing up in kooky green fairy gear and educating our community about textile recycling."
As they do each year, dedicated ATRS Recycling volunteers with collect leftover perishables and snacks from the finish line and deliver them immediately to the Nashville Rescue Mission to supplement the shelter's meal program. Unused marathon apparel, tees and medals will be recycled to benefit the local chapter of MADD in Tennessee. The ROCK RUN RECYCLE campaign makes it possible to effectively clear the course of race related recyclables and divert thousands of pounds from Music City waste streams.
American Textile Recycling Service (ATRS) is the nation's fastest growing textile recycler and an official recycling partner of The Rock 'n' Roll Marathon series. Its socially responsible business model provides free textile recycling solutions for the public, job stimulation worldwide and much-needed funding for worthy local charities. Easy, convenient ATRS Recyclers are available throughout Tennessee, Atlanta, Orlando, Phoenix, Scottsdale, Tempe and Tucson AZ, San Antonio, Austin, Dallas, Houston, Galveston and Beaumont TX, Michigan, Oklahoma, Colorado and Southern California. For press inquires contact PR(at)atrsonline(dot)com.