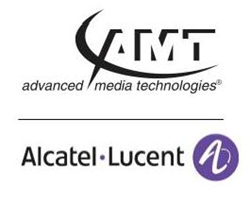 Deerfield Beach, FL (PRWEB) April 29, 2015
Advanced Media Technologies (AMT) today announced it has signed a channel partner agreement with Alcatel-Lucent (Euronext Paris and NYSE: ALU).
Under this agreement, AMT will market, distribute and service Alcatel-Lucent's IP Routing, Dense Wavelength Division Multiplexing (DWDM) and Fixed Access (GPON / EPON) product to the Multiple System Operator (MSO) market in the United States.
The agreement complements Alcatel-Lucent's leadership in ultra-broadband access technologies and highlights its commitment to expand its customer base beyond traditional communications service providers.
"The channel partner agreement with AMT is a perfect example of how two organizations with expertise in complementary offerings can jointly serve customers," said Vijay Sharma, Vice-President Americas Partner Sales, Alcatel-Lucent. "These are the types of channel partnerships we are seeking with a select group of companies in a variety of sectors, and Alcatel-Lucent is looking forward to working with AMT to make additional inroads within the market."
Ken Mosca, President & CEO, Advanced Media Technologies said: "With a history of providing meaningful, cost effective solutions to our customers, AMT continues that legacy and is pleased to introduce Alcatel-Lucent's innovative products and services to our customers. When combined with AMT's strong value-add proposition, Alcatel-Lucent products are uniquely positioned to help our Tier 2 and Tier 3 customers deal with the challenges they face in today's market."
About AMT
Advanced Media Technologies, Inc. (AMT) is the performance leader among CATV and High-End Broadband Electronic Equipment Providers. As a value added reseller of high performance products from numerous well known manufacturers, AMT targets emerging technology applications in broadband and broadcast with a complete line of RF and fiber distribution, video, data, OTT, IPTV, and HDTV products. In addition to providing expert in-house technical support for RF and IP video distribution systems to Cable TV companies nationwide, AMT systems integration provides Turn-Key solutions for Digital TV Headends, CMTS and VoIP deployment, as well as Design and on-site Technical Support.