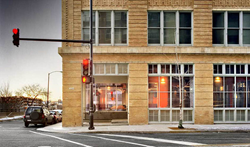 Chicago, IL (PRWEB) April 22, 2015
Automatic Lofts was redeveloped in 2006 into a 482 bed student community with 5800 square feet of street level retail space and a heated parking garage. Located only steps away from the University of Illinois at Chicago campus, Automatic Lofts is also just steps away from the CTA Blue line (UIC-Halsted station). This makes it an excellent living option for students at many colleges in the downtown area including Illinois Institute of Art-Chicago, Columbia, Robert Morris, and DePaul Universities. Automatic Lofts offers residents the exciting West Loop lifestyle together with easy access to their college and the many vibrant surrounding neighborhoods of Chicago.
Built in 1910 as a factory, the structure housed the Automatic Electric Company and produced the innovative Strowger electromagnetic telephone switch. This automated technology replaced switchboard operators by the late 1950's. According to Jean Woodworth, Executive VP and Partner, JMG plans to continue the tradition of providing advanced communications technology in this historic building by implementing Gigabit Internet and Wi-Fi to every unit, a much sought after amenity in student housing.
Automatic Lofts is listed on the National Register of Historic Places. Original building components include timber columns, high ceilings and exposed brick walls. Units feature Herman Miller furnishings. JMG and Empire Square will be enhancing the unique appeal of this historic property with several enhancements to the common areas and the building services over the coming months.
About Empire Square Group
Empire Square Group is a private equity investment and advisory firm based in New York and focused on real estate. The firm works on behalf of substantial high net worth individuals, family offices and their institutions to source customized investment opportunities as well as to provide advisory and asset management services for existing portfolios. Empire Square currently manages over $450 million in assets across the United States.
About JMG Realty, Inc.
JMG is a fully disciplined real estate investment firm headquartered in Atlanta, GA. The firm provides redevelopment, financial, investment and management services for multifamily real estate, including conventional and student housing, for both private and institutional owners. The firm currently manages over $2.4 billion in assets and 25,000 units across the United States.
For more information please contact Jean Woodworth at jwoodworth(at)jmgrealty.com