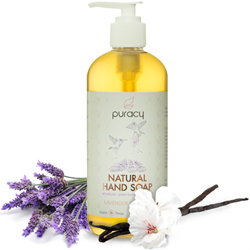 Austin, TX (PRWEB) April 22, 2015
Developed by doctors and trusted by parents, Puracy's all natural and organic household and personal care products are so effective, the company was asked to feature their products at the elite Club Magnolia during Masters Week in Augusta, Georgia.
Puracy prides itself in having formulations that are pure and free from any harsh chemicals, petroleum, or animal-based ingredients. The entire line is cruelty-free and proudly made in the USA using sustainable resources.
Puracy's Natural Hand Soap has gone through four generations of formulas and is now the top ranking natural hand soap on Amazon. The sulfate-free formula contains only plant-based, clinical-grade ingredients and no harsh chemicals. The result is a rich, luxurious foam, gentle aromatherapeutic experience and noticeably softer skin.
Puracy also offers a hypoallergenic and toxic-free baby shampoo and body wash which combines soothing coconut cleansers and nourishing vegetable moisturizers.
The company recently launched its multi-surface cleaner. The formula is 7:1 concentrate, which reduces waste by more than 90%.
For every sale, Puracy donates all natural products to local families and children that are less fortunate.
For more information, visit http://www.puracy.com.