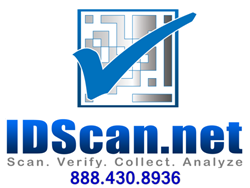 New Orleans, LA (PRWEB) April 29, 2015
IDScan.net, a leader in ID scanning software solutions, and a subsidiary of Wizz Systems LLC, is pleased to announce that they have been selected by a well-known National hotel chain to integrate IDScan.net's ID scanning technology solution into their proprietary PMS platform for enhanced guest check-in and loyalty enrollment.
IDScan.net has been experiencing a high annual growth rate in the hospitality industry over the last five years. "We are thrilled that that this reputable and well-known company successfully tested our solution and have selected our solution to integrate throughout all their locations in the US," says Denis Petrov, CEO of IDScan.net. "This technology will streamline their operations and significantly enhance their guests' check-in experience."
IDScan.net's software will enhance the guest check-in process by allowing the front desk associate to scan the guest ID, and either query the existing guest reservation, or auto-populate a new guest registration within a second, as well as enhance the loyalty enrollment through easy, accurate and automated entry of guest ID details, thereby increasing the efficiency and speed of the check in process. This automated process minimizes errors associated with manual data entry and simplifies an otherwise time-intensive process of manually entering guest information.
About IDScan.net
IDScan.net is the industry leader in ID scanning technology and development of ID scanning software solutions for many of the top companies in the US and Canada. IDScan.net provides a full spectrum of solutions for fraud prevention, access control, automatic data capture, age verification and visitor management. Its innovative history includes being first to market with their iOS and mobile solutions for scanning IDs. Products offered include a full suite of mobile, tablet, and desktop solutions that are used in a variety of industries, including casinos, hospitality, retail, financial, grocery, marketing, automotive, security, technology, government and law enforcement sectors. For more news and information on IDScan.net, please visit
http://www.idscan.net.