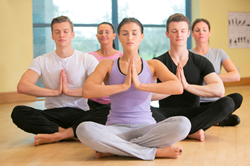 LINCOLN, R.I. (PRWEB) April 21, 2015
April is National Stress Awareness Month, and Amica Insurance is sharing some tips to help reduce stress.
Jean Tapley, senior wellness coordinator at Amica, says it's a good idea to incorporate the following steps into your daily routine to stay ahead of stress in the workplace:
Take slow, deep breaths:

Inhale through your nose.
Exhale through your mouth.
Repeat one to 10 times, as time allows.
Try simple meditation:
Find a quiet place. Sit or lie in a comfortable position.
Close your eyes or focus on one spot directly in front of you.
Bring your attention to your breath, and let busy thoughts float away.
Each time thoughts try to intrude, return your focus to your breath.
Imagine you are on a mini vacation:
Visualize a beautiful location.
Notice details like temperature, time of day, textures and small variations in colors.
The length is time is not critical to the exercise. Even a few minutes can be beneficial.
About Amica Insurance
Amica Mutual Insurance Co., the nation's oldest mutual insurer of automobiles, was founded in 1907. The company, based in Lincoln, Rhode Island, is a national writer of auto, home, marine and umbrella insurance. Life coverage is available through Amica Life Insurance Company, a wholly owned subsidiary. Amica employs more than 3,400 people in 44 offices across the country. For more information, visit Amica.com.
CONTACT: Vince Burks, Corporate Communications, 50 Amica Way, Lincoln, RI 02865-1155, 800-652-6422, ext. 24563
Twitter: Amica
Facebook: Amica Mutual Insurance Co.