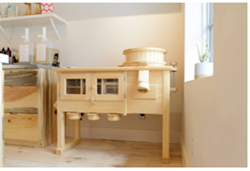 We love being able to bring more health, nutrition and support of local/regional economies into the lives of our customers.
Santa Fe, NM (PRWEB) April 22, 2015
Modern General, a Santa Fe-based general store offering lovingly-selected everyday items and foods, is celebrating Earth Day with the arrival of its Austrian stone-burr mill, enabling customers to stock up on delicious, non-hybridized, minimally processed artisanal flours. Customers purchasing the flours not only reap the nutritional benefits, but can also continue to reuse Modern General's adorable Muslin flour bags, eliminating unnecessary packaging waste. Modern General's Bulk & Mill section also offers eco-friendly shampoo, conditioner, laundry detergent and dish soap—all in beautiful, refillable bottles.
The sleek blonde wood mill was handmade in Austria by a historic producer and shipped 5000 miles overseas to Santa Fe. It stone grinds a variety of ancient and heirloom wheat and grain—like White Sonora and Hard Red Spring Wheat—giving customers a chance to see how flour is made from raw whole grain in the pre-industrial way. Typical large-scale industrial processing discards important components of wheat, like the bran and the germ, which contain healthful proteins, oils and fibers. The mill at Modern General preserves these nutrients, which are a huge source of the flour's nutty, sweet flavor and dietary fibers.
Modern General sources its wheat and grain from Hayden Mills. It is grown sustainably on small organic farms in Arizona. The flours at Modern General can be bought in 1lb+ quantities and will be used in its breakfast pastries, including Wade's delicious Czech kolaches. Barley, which can also be purchased in bulk, is the star ingredient in the recent "Heirloom Purple Barley Porridge" breakfast menu addition. Barley has the highest fiber content and among the lowest starch content of any whole grain, making it a great blood sugar stabilizer.
"We love being able to bring more health, nutrition and support of local/regional economies into the lives of our customers. Flours and grains are often overlooked when we think about where our food is coming from. Now, Santa Fe has its own stone mill, and by buying from Hayden Mills, we are preserving the ancient, almost-lost varieties of wheat and grain from our own backyard in the Southwest," said Erin Wade, Owner, Modern General. "This is how flour is supposed to be."
Organic and Sulfate-free shampoo and conditioner, body lotion, soap, dish soap, and laundry detergent can also be purchased from the Bulk & Mill section—further reinforcing Modern General's "reuse over recycle" approach to environmental friendliness. In fact, according to the EPA, reuse is far more eco-friendly than recycling because the items do not have to go through reprocessing. Reusing can also eliminate the quiet build up of those excess, disposable bottles, something Wade hopes her customers will relate to.
"The bulk section is about making it easier for our customers to minimize clutter and waste and maximize joy and ease," said Wade. "One day, I looked at the sad mess of half-empty bottles in my own shower and suddenly realized that using a single shampoo that really works—in a refillable bottle—is not only good for the earth, it actually feels better. I really believe that the secret to decreasing waste in your life is to connect to the ways in which simplifying and decluttering makes you more joyful."
For more information about Modern General and its eco-friendly practices, please visit http://www.moderngeneralnm.com.
For press inquiries, contact:
Kathleen Langlois
JLH Media
413 374 7655
kathleen(AT)jlhmedia.com
###
About Modern General: Founded by Vinaigrette salad bistro Chef and Owner, Erin Wade, Modern General is a retail & food store located in Santa Fe, NM. An experiential approach to the traditional general store, Modern General provides a fun gathering space for everyday shopping needs. Modern General sells non-perishable items and fresh produce, while its café offers simple, organic food and beverage options. Tools, kitchenware and other retail items are specially curated to bring customers only the most sustainable options. All Modern General products and sourced locally or through eco-friendly channels, and all adhere to Modern General's core mission: enlightened, pared down simplicity. http://www.moderngeneralnm.com