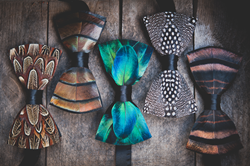 We couldn't be more excited to pair with such a reputable and dynamic retailer.
Charleston, SC (PRWEB) April 22, 2015
Brackish, a high-end men's fashion accessory line headquartered and handcrafted in Charleston, South Carolina, has established a strategic presence in Neiman Marcus stores around the country. As of April 2015, a selection of Brackish bow ties and Plum Thicket Pins will be available in Neiman Marcus stores including Atlanta, Houston, Dallas - North Park, and Beverly Hills.
Neiman Marcus will carry eleven designs in total, represented by seven original feather bow ties and four lapel pins. Originally designed in 2007 by co-founder Ben Ross, Brackish bow ties are handcrafted with meticulous care by a team of 30 artisans and production assistants in Charleston, SC. Because each product is hand crafted from all natural sustainably sourced feathers, no two products are identical.
Founded in 2012, Brackish embodies the thoughtfulness of a unique idea with the precise execution of skilled craftsmanship. The brand is represented in over 120 retailers across 20 states domestically, as well as international retailers in Canada and the UK.
First opened in 1907, Neiman Marcus is a luxury retail powerhouse "that combines a unique heritage with a strong vision for the future." Headquartered in Dallas, the department store represents hundreds of established and emerging designers, making it an ideal partner for Brackish. "We couldn't be more excited to pair with such a reputable and dynamic retailer," says Brackish co-founder Jeff Plotner, "It really is a dream come true."
The partnership reinforces the desire for high quality, unique products in the retail space. While Brackish has made its name as a neckwear line, "We are in a category of our own," says Plotner.
For more information on the Neiman Marcus partnership, or Brackish in general, please contact Whitney Sternbergh, inquire on our social media or visit us at brackishbowties.com.