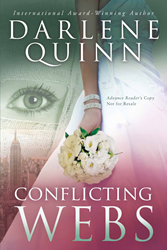 LONG BEACH, CA (PRWEB) April 22, 2015
International award-winning author Darlene Quinn promises to keep her readers in page-turning suspense once again with the release of her latest novel, "Conflicting Webs."
The plot, filled with romance, deception and intrigue, takes readers behind the scenes of high-end retail, a setting author Quinn knows well because of her own professional background in the industry.
Readers are introduced to the conflict quickly in the fast-paced novel as April Toddman and her fiancé, Kyle Clark, plan their wedding, but begin to encounter interference from a woman with whom Kyle shares an out-of-wedlock child.
From there, tension mounts and emotions and events follow at break-neck speed as Quinn leads readers through gripping twists and turns toward the novel's satisfying conclusion.
Sales for "Conflicting Webs" already are so brisk that two days after the book's initial launch, the publisher ordered a second printing.
The novel, winner of the Beverly Hills International Book Awards for General Fiction, also features a cover chosen in a vote by Quinn's long-time fans. Quinn decided to seek their help when she couldn't decide among three possible cover choices, and was delighted with how readers came through for her.
"Having readers supply their feedback means the world to me," Quinn says. "Knowing that they care and have a voice in my work drives me to continue to write stories they can enjoy."
"Conflicting Webs" is the fifth and latest novel in Quinn's Web Series, all of which incorporate the world of the retail-fashion industry into their plots. Other titles are "Webs of Fate," "Webs of Power," "Twisted Webs" and "Unpredictable Webs."
About Darlene Quinn
Darlene Quinn (http://www.darlenequinn.net) is an author and journalist from Long Beach, Calif., whose novels about deceit, intrigue and glamour in the retail fashion industry were inspired by her years working in management with Bullocks Wilshire Specialty department stores. Her latest is "Conflicting Webs," the fifth book in her epic stand-alone Web Series. Previous titles in the series have been "Webs of Fate," "Webs of Power," "Twisted Webs" and "Unpredictable Webs."