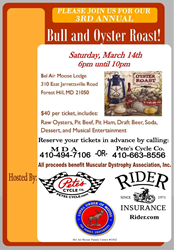 From the bottom of my heart the sincerest thank you is well deserved for your contributions to the MDA - John Leach
(PRWEB) May 04, 2015
Saturday, March 14 was the Third Annual Bull and Oyster Roast hosted by Pete's Cycle, Rider Insurance, and the Bel Air Moose Lodge. The event was held at the Bel Air Moose Lodge at 310 Jarrettsville Road, Forest Hill, MD.
The 3rd Annual MDA Bull & Oyster Roast was, yet again, another success! Much fun was had with great food, music and good company. Most importantly, over $8,500 dollars was raised, with all the proceeds benefiting the Muscular Dystrophy Association! The goal was to beat last year's amount, and they did! Pete's Cycle and the other sponsors thank everyone that attended, sponsored and donated to this event. Without all the generous contributions this would not have been possible. John Leach and Olivia Calvert extend their deepest of gratitude's to its supporters.
Pete's Cycle is Maryland's largest volume motorcycle dealer. Pete's Cycle has been family owned and operated for 77 years with three locations in Belair, Severna Park and in Baltimore. Pete's Cycle carries 11 different franchises of motorcycles, atv's scooters, watercraft, Utv's, and generators from Honda, Yamaha, Suzuki, Kawasaki, Triumph, Polaris, Ducati, Can-am, Victory, Kymco, and Seadoo.
The Muscular Dystrophy Association is the world's leading nonprofit health agency dedicated to finding treatments and cures for muscular dystrophy, amyotrophic lateral sclerosis (ALS) and other neuromuscular diseases. We do so by funding worldwide research; by providing comprehensive health care services and support to MDA families nationwide; and by rallying communities to fight back through advocacy, fundraising and local engagement. It's special work powered by special people who give generously. Visit mda.org and follow us at facebook.com/MDAnational and @MDAnews.