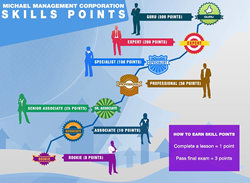 We want our students to have a little fun...
New York, NY (PRWEB) April 22, 2015
This week, Michael Management Corporation, the leading SAP training and eLearning provider, launched the first phase of its ambitious new initiative to add gamification and social learning into its already cutting-edge SAP training courses. Gamification and social learning are the top trending features to drive more student engagement in corporate learning, and Michael Management is the first in the SAP training sector to offer it.
MMC's students are now able to earn skill points that pay forward towards reaching different skill levels of expertise like 'associate', 'expert' or 'guru', to name a few. Students also earn badges for various accomplishments as they train on the Michael Management site.
These accomplishments will be posted on the students profile wall and are visible by other students either within their own company or across the vast Michael Management SAP training community.
"We've always thought SAP training can be so much more than sitting in a classroom or being force-fed information from a PowerPoint presentation. That's not engaging, effective or fun. By adding gamification and social learning elements into our SAP training we want our students to have a little fun while at the same time learning important SAP skills efficiently," said Thomas Michael, CEO of Michael Management.
MMC is currently working on the next phase of this initiative that will allow students to interact, gift badges to each other, and more. That phase is expected to go live sometime in the summer of 2015.
Michael Management Corporation provides over 100 SAP certification-level training courses in 8 curricula, in addition to its popular SAP career paths that direct their students' training towards real-world SAP jobs.
About Michael Management Corporation
Michael Management Corporation is a leading provider of SAP training, SAP eLearning and SAP access. The company provides an unmatched level of SAP product expertise. Michael Management Corporation's award-winning online SAP training courses are used by many Fortune 500 companies around the world to train their users on SAP know-how.
Michael Management Corporation (MMC), the MMC Logo and the MMC Swoosh are registered or unregistered trade and/or service marks of Michael Management Corp. and are protected by US and international copyright laws. All other names, brands, logos, etc. are registered trade or service marks of their respective owners. MMC is not affiliated with SAP AG.