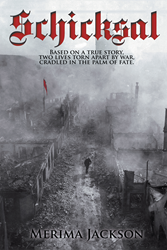 It took me awhile to piece together my parents' past
MELBOURNE, Australia (PRWEB) April 23, 2015
"Schicksal" is the German word for fate and describes perfectly the journey author Merima Jackson went through when writing her first historical novel.
When Jackson's father passed away ten years after her mother, Jackson became an adult orphan, which she felt keenly.
"The death of my mother shocked me, shaking me and leaving me vulnerable, but the death of my father ten years later left me without my best friend," Jackson said. "He had apologized for not leaving me enough, but I replied he had given me more than enough. I realized this included their story, which became Schicksal."
Jackson was inspired to write a historical novel by the stories her mother and father had told her of their pasts during World War II in Europe and their immigration from Germany to Australia. "Schicksal" seemed like the perfect title, as the two characters suffer from the carnage of war, yet still have faith in the universe that they will get a happy ending.
Schicksal conveys the human cost of war and the role of forgiveness as a transformative bridge.
"It took me awhile to piece together my parents' past," Jackson said. "Through the work, I found myself progressively less helpless in the face of the unknown and found a platform as I increasingly understood where I really came from."
For more information, visit http://www.schicksal.com.au.
Schicksal
By Merima Jackson
ISBN: 978-1-4525-2553-2
Available in softcover, e-book
Available on Amazon, Barnes & Noble and Balboa Press
About the author
Merima Jackson is a physiotherapist with more than three decades of experience in rehabilitation, critical care, and community health. She is intrigued by recovery, health and spirituality. The author is married, has three children and lives in Sunbury, Australia.
# # #
**FOR IMMEDIATE RELEASE**
For review copies or interview requests, contact:
Jaymie Shook
317.602.7137
jshook(at)bohlsengroup(dot)com