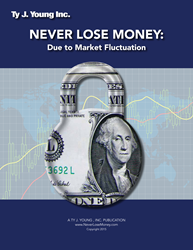 "We offer our clients a welcome break from Wall Street risk ... in that respect, we're in the business of peace of mind." Ty J. Young
Atlanta, Georiga (PRWEB) April 22, 2015
Ty J. Young, Inc. a nationwide wealth management firm has just released a powerful new booklet called "Never Lose Money: Due to Market Fluctuation" which is must read for anyone heavily invested in the current marketplace.
Considered an "investment market guru," company founder and CEO Ty J. Young, is an American business executive with over 20 years of experience in the investment and insurance industry. He's a regular contributor on various national cable and satellite news channels including Fox Business, CNN, and CNBC where he offers expert insight into the economic, financial, and retirement stories of the day.
Mr. Young's mission promotes an upbeat mandate which is imparted to his team of advisors as he instructs them to "make a positive difference in every life that you touch." The company has clearly touched many lives in their 15 plus years of helping to protect their investment clients from stock market losses.
"Our method is very simple," Young states. "We believe that every investor approaches retirement with a fundamental need for security. We offer our clients a welcome break from Wall Street risk with gains that are locked in annually. In that respect, we're in the business of peace of mind."
"Never Lose Money: Due to Market Fluctuation" explores modern debt and market volatility within the critical context of history ... from Black Tuesday, to Black Monday, to the recent Great Recession. It addresses the actions of the Fed, market valuation, and the critical Crash/Crisis factor. It also explores the longstanding tradition of risk protection and includes a "Risk Test" to help readers assess their level of security and/or vulnerability.
"Smart investors know that aside from death and taxes, the other thing they can truly count on is market instability," says Young. "We've found that one of the secrets to wealth, particularly in retirement, is to not let everything 'ride' but to take some money off the table, keep it safe, and let it earn a reasonable rate of return."
Young and his team sit down every day to chart their objectives and champion a somewhat different definition of success which reflects the truly American principals of self-determination and self-reliance by "helping people make the very best decision they can possibly make for themselves."
The new booklet is a complimentary publication of Ty J. Young, Inc. and is available immediately via electronic download. A hard copy version is also available upon request.
The company can be reached at: 877-912-1919 or at their website at: http://www.TyJYoung.com