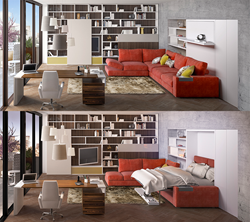 New York, NY (PRWEB) April 22, 2015
Resource Furniture, North America's largest retailer of space saving furniture according to The Wall Street Journal, will present their latest European, space-saving innovations at the International Contemporary Furniture Fair (ICFF) from May 16-19 at the Jacob K. Javits Convention Center in New York, NY. In addition, Resource Furniture is proud to participate in the ASID onstage discussion "Design for the Modern Micro-Space: A Home for the Socially Inspired" on Monday, May 18 at 3 p.m. Tickets can be purchased here: http://www.eventbrite.com/e/asid-at-icff-2015-tickets-15897276181?aff=ASIDweb. ASID members receive a $10 discount of the individual ticket price.
The discussion, part of the ASID Education Series, will center around urban demographic shifts that have led to the development of "micro-suites", an evolving housing typology catering to individuals who earn too little to live alone, particularly in major metropolitan markets.
The session panelists, Lisa Blecker, Director of Marketing at Resource Furniture, and Andrew and Christopher Bledsoe, Founding Partners of Stage 3 Properties, will bring their hands-on experience with flexible housing design and development to the stage for a lively, inspiring talk. At the forefront of the shared micro-suite movement in New York City, Stage 3 Properties will discuss findings from their proprietary body of research, surveys and focus groups, while offering a sneak preview of how this research has influenced their forthcoming project, dubbed "OLLIE," the first micro-suite project in NYC. Resource Furniture, whose products will be used throughout the OLLIE brand, will offer insights into how multifunctional interior solutions make small-footprint living possible.
The ASID Education Series brings together thought industry experts and thought leaders to present insightful content through ICFF. Registered session attendees will earn 0.1 IDCEC-approved continuing education units (CEU) per session. To see the full list of ASID CEU courses, visit: https://www.asid.org/event/ASID-at-ICFF/education-sessions#.VTZPSCHBzGc.
In booth 2032, Resource Furniture will debut new designs along with crowd favorites Tango, Kali Duo Sofa and Kali Theatre wall bed systems. Tango, the latest sofa/wall bed innovation by Clei, features a luxury, modular sofa system with an array of reclining components. The Kali Theatre wall bed system features a sliding television panel that cleverly conceals a twin XL bed. The Kali Duo Sofa is the first bunk bed from Clei that features a seven-foot sofa in the "day" position and two twin XL beds at night, providing optimal multi-functionality.
ICFF is open to the trade Saturday, May 16 and Sunday, May 17 from 10 am-5 pm, Monday, May 18 from 10 am-6 pm, and open to the general public on Tuesday, May 19 from 10 am-4 pm. 
# # #
ABOUT RESOURCE FURNITURE
Resource Furniture is the original – and largest - source for cutting-edge, multi-functional living systems in North America, offering the most inspired and innovative furniture solutions available in the world for more than 14 years. With showrooms in New York, Los Angeles, San Francisco, Toronto, Vancouver, Calgary, and Mexico City, Resource Furniture continues to redefine and revolutionize the industry by offering the most technologically innovative, space-saving and sustainable products in the world, all of which transform any space with both beauty and functionality. Visit resourcefurniture.com for more information.
# # #
ABOUT ASID
The American Society of Interior Designers believes that design transforms lives. ASID serves the full range of the interior design profession and practice through the Society's programs, networks, and advocacy. We thrive on the strength of cross-functional and interdisciplinary relationships among designers of all specialties, including workplace, healthcare, retail and hospitality, education, institutional, and residential. We lead interior designers in shared conversations around topics that matter: from evidenced-based and human-centric design to social responsibility, well-being, and sustainability. We showcase the impact of design on the human experience and the value interior designers provide.
ASID was founded 40 years ago when two organizations became one, but its legacy dates back to the early 1930s. As we celebrate nearly 85 years of industry leadership, we are leading the future of interior design, continuing to integrate the advantages of local connections with national reach, of small firms with big, and of the places we live with the places we work, play, and heal. Learn more at asid.org.
# # #
ABOUT STAGE 3 PROPERTIES
Stage 3 Properties, Inc. is redefining cosmopolitan living for first-time urban renters. With nearly a decade
invested in researching, developing and refining a strategy to reach this under-served segment of the housing market, Stage 3 has devised a holistic housing solution that addresses the longstanding challenges confronting this fast-growing demographic. Pulling from in-house competencies as well as the technical expertise of strategic partners, Stage 3's corporate capabilities range from site identification, financial feasibility and marketability analyses, to design, development/re-development, branding, leasing and property management.
# # #
CONTACT INFORMATION
Resource Furniture
Laura Anderson
212-753-2039
laura(AT)resourcefurniture.com
ASID
Lindsay Marshall
202-675-2346
lmarshall(AT)asid.org
Stage 3 Properties
Christopher Bledsoe
212- 865-3091
cbledsoe(AT)stage3properties.com