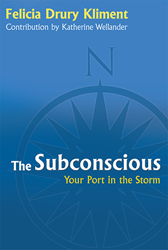 As our second brain, the subconscious compensates for the limitations of our conscious brain, provided we put ourselves in a position to receive its benefits
NEW YORK CITY (PRWEB) April 23, 2015
Everyone has taken an instant dislike to a person. Where did that feeling come from? The subconscious – the hidden part of the brain waiting to be tapped and trusted.
Unlike the rational conscious brain, encumbered with endless facts and figures and overpowered by today's technology, the subconscious mind is subjective, indirect, free to roam and interpret diverse data from which to form opinions.
"As our second brain, the subconscious compensates for the limitations of our conscious brain, provided we put ourselves in a position to receive its benefits," Kliment said.
"The Subconscious: Your Port in the Storm" explores myriad facets of the subconscious and offers insights into how to access its many uses. With Kliment's techniques, readers can learn how to use the subconscious for such practical applications as finding a partner, selecting a career, or improving writing and speaking skills.
Based on her own life experiences and using a wide variety of sources – scientific, scholarly, literary, artistic, cultural, and personal – Kliment weaves a rich tapestry of how the subconscious works in all facets of human life.
By understanding the role of the subconscious brain, readers can enrich their lives by identifying their goals and dreams and making meaningful choices about how to reach them. People must be willing to open their minds to allow the subconscious to inform and inspire them.
"I hope readers connect with their subconscious and allow it to guide and enhance their lives as it has my own," Kliment said.
For more information, visit http://subconsciousbook.com/.
The Subconscious: Your Port in the Storm
By Felicia Drury Kliment
ISBN: 978-1-4808-0503-3
Available in softcover, hardcover, e-book
Available on Amazon, Barnes & Noble and Archway Publishing
About the author
Felicia Drury Kliment has written several articles related to the way the mind works and how to interpret the messages people project verbally and physically. Her landmark paper "Beyond Psychoanalysis" was published in the distinguished journal The Clearing House. Also an alternative health consultant, Kliment has written two previous books, The Acid Alkaline Balance Diet and Eat Right for Your Metabolism for McGraw-Hill.
# # #
**FOR IMMEDIATE RELEASE**
For review copies or interview requests, contact:
Jaymie Shook
317.602.7137
jshook(at)bohlsengroup(dot)com