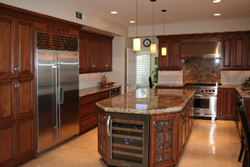 Ready To Assemble Kitchen Cabinets Deliver Beautiful & Stylish Design to your Kitchen
Anaheim, CA (PRWEB) April 22, 2015
Many homeowners are looking for ways to improve their kitchen but do not have the inspiration to make the changes needed. Now thanks to the kitchen designer from CabinetDIY. They have launched some trendy styling tips for a new kitchen. Homeowners can now learn how to give their kitchen a fresh look with unique and customized design.
1. Open Floor plan
Since the modern tendency is for a kitchen to be a new family room, more and more people choose to incorporate sitting room and dining room furniture into its design. Islands, banquette seating, and counters could be an ideal choice for this purpose says a spokesman for CabinetDIY.
2. White Still In
White RTA cabinets offered by CabinetDIY are among the most popular options. No matter traditional, contemporary or chic style, the White Kitchen Cabinet can satisfy all demands. White cabinetry opens a room to many decoration choices and color palettes that have no boundaries.
3. Smart Kitchen Storage
Another popular trend these days is the lower cabinets that help homeowners keep their baking dishes, pans and pots in order. Different pullouts and integrated storage options help people store their spoons, bottles, and other kitchen tools; so many opt for toe-kick drawers and built-in utensil trays.
4. Hi Technology Appliance
According to CabinetDIY, the advanced technology has its impact on kitchens. The household appliances that work with Wi-Fi or that can be controlled with smartphones. Technologies make life easier.
5. Bold appliance color
Blue, red or colorful appliances can add a unique twist on any kitchen design while others choose simple cabinets with minimal hallmarks and ornamentation for warm touch and atmosphere.
6. Concrete counter-top
Concrete counter-top, due to the durability of this material that can be tinted to the desired color. It is a lower cost material with the ability to deliver a sleek and modern look to the kitchen.
To find out more about the products offered by CabinetDIY, please visit http://www.cabinetdiy.com
About CabinetDIY
CabinetDIY is established in 2004 to provide professional interior design services and products throughout North America and beyond. The company is specialize in RTA (Ready To Assemble) cabinets. Their Door to Door delivery service give customer stress free shopping experience. CabinetDIY takes each customer's need, complaint or suggestion seriously, constantly improving their services and products to meet the demands for quality, uniqueness and diversity of the today's generation.