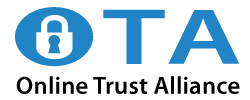 "The Online Trust Alliance is working to make the Internet more trustworthy and protecting consumers from harm." -- Congresswoman Suzan DelBene
SEATTLE (PRWEB) April 22, 2015
The Online Trust Alliance, the non-profit with the mission to enhance online trust, announced today that it has won the SC Magazine Editor's Choice Award. SC Magazine recognized OTA for its contribution to both the public and private sectors, and advancing best practices in data privacy and cybersecurity while driving multi-stakeholder efforts to create effective policy and legislation. OTA Executive Director and President Craig Spiezle accepted the award in a ceremony last night at the annual SC Awards program at the RSA Conference in San Francisco.
"The Online Trust Alliance and its community of members are incredibly honored to receive SC Magazine's Editor's Choice Award as it is the 'gold standard' in our industry," said Spiezle. "It is heartening to know that our efforts to promote responsible data, privacy and marketing stewardship through our development of best practices have made a tangible impact."
SC Magazine commended OTA for such initiatives as its annual Online Trust Honor Roll & Audit and Data Protection & Breach Readiness Guide. The Honor Roll & Audit evaluates the security and privacy policies of the world's top websites and the Guide provides prescriptive guidance to help businesses prepare for and respond to a data loss incident. SC Magazine also awarded OTA for hosting numerous breach workshops with the FTC, FBI and the Secret Service as well as testifying at two separate Senate hearings last year about the hidden hazards of online advertising and botnets, and for hosting Congressional staff educational programs on a range of privacy-related topics.
"The OTA serves as a significant value to industry and the public sector. Through their focus on providing pragmatic and actionable advice they have helped advance best practices and accountability in making the Internet more trustworthy and resilient," said Hon. Howard A Schmidt, Partner, Ridge-Schmidt Cyber. "As an early advisor to OTA while at eBay/PayPal, to serving as the President's White House Cyber-Security Coordinator, to my current role, I know firsthand how OTA serves as a model for multi-stakeholder efforts, willing to take the hard issues on and walk the walk."
"The OTA exemplifies leadership in advancing a more trustworthy, secure and resilient Internet," said Mike Brown, President and CEO of Symantec Corporation. "The OTA's development of best practices that enhance online safety, data security, privacy and brand protection are benefiting businesses and consumers worldwide. Symantec congratulates the OTA on this prestigious award and we look forward to contributing to their future initiatives."
"The Online Trust Alliance is working to make the Internet more trustworthy and protecting consumers from harm," Congresswoman Suzan DelBene (WA-01) said. "OTA receiving SC Magazine Editor's Choice Award demonstrates their effectiveness in protecting Internet users' privacy and data security."
To qualify as a finalist for the Editor's Choice Award, nominees are first judged by SC Magazine's editorial team, Advisory Board, readers and other sources. The recipient of this special designation is then ultimately decided upon by SC Magazine's Vice President of Editorial Illena Armstrong.
"The Editor's Choice Award is presented to the company or organizations that best exemplify the continued hard work and dedication to educating the industry on best practices for IT security and leading meaningful initiatives to positively impact the lives of our community," said Armstrong. "The Online Trust Alliance truly lives up to their mission to create and promote innovation, best practices and key technologies that enhance trust and promote principals vital to technology adoption, growth and global access to information."
Now in its 18th year, the SC Magazine Awards are recognized as the most prestigious mark of achievement for information-technology (IT) security professionals and products. The Editor's Choice Award specifically pays homage to individuals, companies or organizations that are making a positive impact on the security industry as a whole.
For more information and a detailed list of award categories and winners, please visit http://www.scmagazineus.com/awards.
About OTA:
The Online Trust Alliance (OTA) (https://otalliance.org) is a non-profit with the mission to enhance online trust and user empowerment while promoting innovation and the vitality of the Internet. Its goal is to help educate businesses, policy makers and stakeholders while developing and advancing best practices and tools to enhance the protection of users' security, privacy and identity. OTA supports collaborative public-private partnerships, benchmark reporting, and meaningful self-regulation and data stewardship. Its members and supporters include leaders spanning the public policy, technology, ecommerce, social networking, mobile, email and interactive marketing, financial, service provider, government agency and industry organization sectors.
About SC Magazine:
SC Magazine provides IT security professionals with in-depth and unbiased information through timely news, comprehensive analysis, cutting-edge features, contributions from thought leaders and the best, most extensive collection of product reviews in the business. By offering a consolidated view of IT security through independent product tests and well-researched editorial content that provides the contextual backdrop for how these IT security tools will address larger demands put on businesses today, SC Magazine enables IT security pros to make the right security decisions for their companies. Besides the monthly print magazine and vibrant daily website, the brand's portfolio includes the SC Congress and Expo series (Chicago, London, New York, Toronto), SC Awards (U.S. and U.K.), SC Marketscope, SC Magazine Newswire and SC Magazine IT Security Executive Forums.
Join us on Facebook: http://www.facebook.com/SCMag
Follow us on Twitter: http://twitter.com/scmagazine
Contact OTA:
Andrew Goss
Voxus PR
253.444.5446
agoss(at)voxuspr(dot)com
Contact SC Magazine:
Public Relations for SC Magazine
Matt Stubbs, MIX Public Relations
matts(at)mix-pr(dot)com