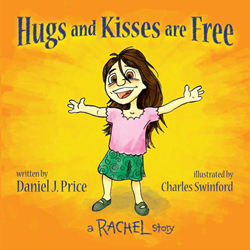 Lynchburg, Va. (PRWEB) April 21, 2015
A new children's book from Liberty Mountain Publishing tackles a subject familiar to parents everywhere: wants versus needs. Author Daniel Price's own daughter, Rachel, was the inspiration for "Hugs and Kisses are Free" and its lead character shares her name.
"The goal of this book is simple," Price said. "I am trying to help parents and children have a conversation about this important subject. If a child does not learn how to distinguish between wants and needs at a young age, it can overwhelm them in the future."
He believes this is especially true in a culture that often emphasizes the accumulation of goods as evidence of success.
In "Hugs and Kisses are Free," Rachel travels to many different stores with her mother. At each stop, Rachel finds something she would like to have and her mother gently explains to her why those items are not important. By the end, Rachel understands and agrees that hugs and kisses are truly valuable.
"Hugs and Kisses are Free" is available at Amazon and Barnes & Noble. It is the first in a children's book series by Price.
"This series will address subjects which can be hard to discuss. I attempt to write a story that kids will find fun and entertaining, but that also encourages adults to broach these topics," Price said.
About the Author
Daniel Price is the father of four children. He currently works at Liberty University and teaches statistics through Liberty online program. He has worked with children in a variety of roles including soccer and basketball coach, and Sunday School teacher.
About Liberty Mountain Publishing
Liberty Mountain Publishing, an imprint of Liberty University Press, produces Christian-living publications, such as novels, inspirational books, and children's books. Visit Liberty Mountain Publishing online for more news and information.
About Liberty University
Liberty University, founded in 1971, is the largest private, nonprofit university in the nation, the largest university in Virginia, and the largest Christian university in the world. Located near the Blue Ridge Mountains on more than 7,000 acres in Lynchburg, Va., Liberty offers more than 450 unique programs of study from the associate to the doctoral level. More than 200 programs are offered online. Liberty's mission is to train Champions for Christ with the values, knowledge, and skills essential for impacting tomorrow's world.