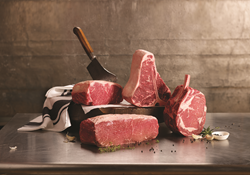 36 to 72 Ounce Steaks Are the "Massively Awesome" and Represent the "Ultimate Steak Gift for Father's Day"
Omaha, Neb. (PRWEB) April 22, 2015
Omaha Steaks, the nation's leading purveyor of exceptional grain-fed beef and gourmet foods, announced today the launch of four new "King Cut" steaks including a 36 oz. New York Strip, 48 oz. Ribeye on the Bone, 48 oz. T-Bone and 72 oz. Top Sirloin. The new cuts are the largest steaks the company has offered in its nearly 100-year history.
While specialty cuts of this size have long been offered at a few steakhouses across the country, Omaha Steaks is the first direct mail order company to offer steaks of this size shipped directly to customers' homes. Omaha Steaks King Cuts are the company's thickest steaks available – ranging from 3 to 6 inches, depending upon cut. Because of the weight and thickness, the King Cut steaks require special cooking; Omaha Steaks recommends sear roasting or smoking for the best results.
"We've always offered customers the option to have one of our premium Omaha Steaks custom cut to their exact specifications," said Todd Simon, Senior Vice President and Family Owner of Omaha Steaks. "But our new King Cuts mean these massively awesome steaks will be available any time without the need for a special order."
Simon added, "Our new King Cuts have all the same great qualities you would expect from our New York Strip, Top Sirloin, Ribeye and T-Bone, just more of it. They are truly the ultimate steak to enjoy or as a gift for the steak lover in your life."
Omaha Steaks, known nationwide as a direct marketer of premium beef and gourmet foods, is perhaps most well-known for its legendary filet mignons, carved from the heart of the beef tenderloin. All Omaha Steaks are hand-cut by master butchers, aged to perfection, vacuum-sealed and flash frozen to ensure the highest quality delivered right to customers' doors.
Omaha Steaks also offers Custom Cuts, premium meats hand-trimmed to exact specifications by one of their more than 100 master butchers.
For more information about Omaha Steaks new King Cuts or Custom Cuts, visit http://www.OmahaSteaks.com/KingCuts.
About Omaha Steaks
Omaha Steaks, founded in 1917, is an Omaha, Nebraska-based, fifth-generation, family-owned company that markets and distributes a wide variety of the finest quality USDA-approved, grain-fed beef and other gourmet foods including seafood, pork, poultry, side dishes, appetizers, complete meals and desserts. Today, Omaha Steaks is recognized as the nation's largest direct response marketer of premium beef and gourmet foods, available to customers by calling 1-800-228-9055, online at http://www.OmahaSteaks.com or at retail stores nationwide.
###