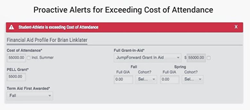 "JumpForward is the only software platform that can help NCAA Division I athletic departments make this transition into the new era of Autonomy."
Chicago, IL (PRWEB) April 22, 2015
JumpForward, LLC (http://www.jumpforward.com), the leading provider of enterprise software solutions for collegiate athletic departments announces the release of JumpForward's solution to "NCAA Autonomy" with feature sets designed to meet and exceed the needs of athletic departments facing the new changes associated with the NCAA's Autonomy legislation "The new NCAA Autonomy legislation that passed in January 2015 allows Division I athletic departments to cover up to the full cost of attendance for players' as well as offer multi-year scholarships, and much more," said Adam M. McCombs, Chief Data Officer at JumpForward.
According to some conservative estimates, there are around 36,000 NCAA Division I student-athletes at the 65 NCAA institutions with an average gap between a full grant-in-aid and total cost of attendance tallying $3,000, which represents a $108 million commitment to student-athletes. "JumpForward is the only software platform that can help NCAA Division I athletic departments make this transition into the new era of Autonomy. We take great pride in working closely with JumpForward's Development Council members and other customers to develop such innovative and impactful solutions," said Brian Linklater, Head of Product at JumpForward.
JumpForward's financial aid solution has historically provided schools with the tools needed to successfully monitor financial aid. "JumpForward's recent release has a series of updates to its financial aid solution to not only enhance the experience and provide more tools to athletics administrators across all of Division I and II, but also afford institutions who are applying the new NCAA autonomy rules the first ever software program that will accommodate the evolution in this area," said Mary Ellen Jones, Director of Unified Athletics at JumpForward.
"The enhanced JumpForward financial aid solution is on the same platform as the JumpForward Unified Athletics® Department Solution, which allows institutions to provide access to any administrator who assists in monitoring and managing this important area," said Jones. The solution allows institutions to customize full grant-in-aid amounts, as well as record and track aid up to the cost of attendance. Warnings and pop-ups assist in alerting schools to potential over award issues before they occur, and institutions can fully monitor summer financial aid.
The JumpForward financial aid solution will ultimately include features for institutions to record and monitor all elements of an athletics scholarship, including the newly permissible miscellaneous and other expenses up to cost of attendance, as well as tuition, fees, room, board and other components of an athletics award. JumpForward's new financial aid projections and forecasting features will not only allow institutions to enter, track and monitor multi-year scholarships for individual student-athletes, but also look at future year team awards to better strategically plan financial aid and budget allocations into the future. With the NCAA's adoption of the financial aid autonomy rules this year, JumpForward is focused on developing the tools necessary for athletics department to strategically plan and monitor this area of focus in the industry today. "JumpForward has developed more key features to properly help athletic department prepare and implement the new NCAA Autonomy legislation for August 2015," said Cody Edwards, Compliance Account Manager at JumpForward.
About JumpForward, LLC: Founded in 2008, JumpForward provides custom software solutions to 3,200 college teams, including over 150 universities that use the software across the entire athletic department. JumpForward's product suite includes integrated solutions for coaches, compliance, business offices, academic services, registrars, financial aid, development, marketing, admissions, equipment rooms, and ticket offices. By bringing all of these departments onto a single technology platform, JumpForward allows colleges to communicate more effectively, securely share information across departments, and use analytics to predict progress towards user specific goals. For more information on JumpForward, LLC, please contact them at sales(AT)jumpforward.com or contact their offices at 866-499-0564.