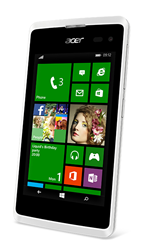 We're confident that budget-conscious customers will appreciate the significant value and ease of use that our Liquid smartphones offer.
NEW YORK (PRWEB) April 23, 2015
Editor's Summary

Currently sold in 55 countries, Acer's smartphone offerings will now extend to the United States
Compact 4-inch display delivers clear 233PPI resolution and Thai Silk pattern surface texture provides comfortable grip
Windows Phone 10 ready(1)
Available in June for an affordable price of just $79.99 (MSRP)
Acer announced today that it is expanding its smartphone business to the United States for the first time by bringing its award-winning Liquid M220 smartphone to Microsoft Stores. The Liquid M220, powered by a Qualcomm® Snapdragon® 200 processor(2), is the first Liquid smartphone to run on the Windows Phone 8.1 operating system and is supported by Acer for the free Windows 10 upgrade.(1)
"We're delighted to team with Microsoft to bring our Liquid smartphones to customers in the United States," said Hugo Hernandez, vice president, Acer America Smartphone Business Group. "With a successful track record of working with more than 20 telecommunications providers in 55 countries around the world, we're well-prepared to expand the breadth of our mobile product offering in one of the world's largest and most influential markets. We're confident that budget-conscious customers will appreciate the significant value and ease of use that our Liquid smartphones offer."
"It's great to see Acer expanding its portfolio of Windows devices in the US to include smartphones," said Peter Han, vice president of worldwide OEM marketing, Microsoft. "We are excited to provide a common Windows experience to our joint customers on Acer's devices, from laptops to tablets and now the award-winning Liquid M220."
"Qualcomm Technologies congratulates Acer on the launch of the Liquid M220, the company's first smartphone for the United States," said Reiner Klement, vice president of product management, Qualcomm Technologies, Inc. "Powered by a Qualcomm Snapdragon 200 processor and running Windows 8.1 or Windows 10 OS, once available, the M220 has an impressive design aesthetic and feature-set, making it an appealing choice for the budget conscious consumer."
Liquid M220 – Beautiful Simplicity
The Liquid M220 was designed to provide essential features for those looking for a simple, easy to use and very affordable smartphone. Its 4-inch 233 pixels per inch (PPI) WVGA (480x800) display delivers clear images for enjoying social media, while front and rear cameras let customers snap selfie pictures and record video on-the-go. The user interface is intuitive and easy to customize and fully supports Microsoft applications and services such as OneDrive, Skype, Office and the Cortana(3) digital assistant.
Featuring a functional, yet beautiful design, the Liquid M220's rear cover has an attractive Thai Silk pattern-inspired texture and is available in Mystic Black or Pure White. Combined with the middle frame's square pyramid design, it creates a comfortable and more secure grip. The volume and power keys are positioned along the silver middle frame making them easy to find, while enabling one hand operation. Compact and comfortably light weight, it measures just 4.9- x 2.5-x .38-inches and weighs only 4.2 ounces.
Handy Cameras
A 5MP auto-focus rear camera with LED flash and an 89-degree wide-angle lens captures memorable moments instantly and in vivid color. In addition, the 2MP fixed-focus front camera can take fun photos and videos on the fly for sharing on social media and support videoconferencing with family and friends.
Familiar, Intuitive Operation
Due to the popularity of the Windows operating system, the Windows Phone 8.1-powered Liquid M220 is extremely intuitive and easy to use. It's also a cinch to personalize with a variety of customization options for live tiles, colors and screen layout.
The Liquid M220 is powered by a Qualcomm® Snapdragon® 200 processor(2) with dual-core CPUs at speeds of up to 1.2GHz, 1GB memory and a replaceable 1300mAh battery that provides up to 3 hours talk time and up to 200 hours in standby on a single charge.(4) It provides ample room for archiving photos and videos with 8GB(5) storage capacity that can be expanded with a Micro SD card. Excellent wireless connectivity is provided via Bluetooth® 4.0 EDR and 802.11b/g/n, while a micro USB port enables connection to a digital camera, printer and/or external drive.
Availability and Pricing
The Liquid M220 smartphone will be available at Microsoft Stores and Microsoftstore.com in the United States in Mystic Black and Pure White for $79.99 (MSRP) in June.
It was unveiled today at the [email protected] press event at 4 World Trade Center in New York, where the company announced its latest devices and solutions for families, students and professionals. For more information, visit acer.com/nextatacer.
About Acer
Established in 1976, Acer is a hardware + software + services company dedicated to the research, design, marketing, sale, and support of innovative products that enhance people's lives. Acer's product offerings include PCs, displays, projectors, servers, tablets, smartphones, and wearables. The company is also developing cloud solutions to bring together the Internet of Things. Acer employs 7,000 people and ranks No. 4 for total PCs globally.(6) Revenues for 2014 reached US$10.39 billion. Please visit http://www.acer.com for more information.
© 2015 Acer America Corp. All rights reserved. Acer and the Acer logo are registered trademarks of Acer Inc. Other trademarks, registered trademarks, and/or service marks, indicated or otherwise, are the property of their respective owners. All offers subject to change without notice or obligation and may not be available through all sales channels. Prices listed are manufacturer suggested retail prices and may vary by location. Applicable sales tax extra.
1. Windows Phone 10 upgrade on Liquid M220 coming after Windows Phone 10 launch later this year; may incur limited features due to platform technical specifications. Some hardware/software may limitations apply and feature availability may vary by device. Devices must be connected to the internet and have Windows Update enabled. Your Internet Service Provider may charge you additional fees. Should customers decide to approach an Acer Service Center to perform the upgrade, Acer reserves the right to charge for the service provided. The free upgrade offer is valid only during the first year of Windows 10 availability.
2. Qualcomm Snapdragon is a product of Qualcomm Technologies, Inc. Qualcomm and Snapdragon are trademarks of Qualcomm Incorporated, registered in the United States and other countries.
3. Cortana personal assistant is currently deploying in its alpha version and availability may vary on country, system language, and product SKU.
4. Battery life may vary depending on usage. Actual battery life varies depending on product specifications, settings and applications or features launched. All batteries' maximum capacity diminishes with time and use.
5. Accessible capacity varies: (MB = 1 million bytes; GB = 1 billion bytes)
6. IDC FY2014