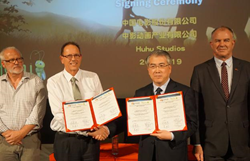 "Beast of Burden is the first of many feature films that we plan on making as a team together." -Michael Cerenzie, Chairman/Founder, Stratagem Entertainment
Beijing, China (PRWEB) April 23, 2015
China Film Animation (Beijing, China) and Huhu Studios of New Zealand announced today the commencement of the 3D animated feature film Beast of Burden. With financial backing from Qi Tai Culture Development Group, the project will be the first China-New Zealand collaborative production on a 3D animated feature film.
Jun Huang, President and CEO of China Film Animation said, "For some time we have been working towards partnering with Huhu Studios from New Zealand on animated feature films. We are thrilled with the Beast of Burden story and delighted to be getting the project underway."
A proposed China-New Zealand Co-Production between China Film Animation and Huhu Studios, Beast of Burden is written and directed by Kirby Atkins (Nickelodeon's "The Adventures of Jimmy Neutron"). In a fictitious past, now-extinct creatures called 'Thoriphants' are forced into a life of servitude for human farmers. But one family of Thoriphants discovers a life-altering secret about their species and will embark on a miraculous adventure where they must be braver and stronger than they ever imagined they could be.
This family feature will be produced by Trevor Yaxley, CEO of Huhu Studios, and Mr. Huang, CEO of China Film Animation with Michael Cerenzie of Stratagem Entertainment and Kenin Spivak of SMIE serving as the executive producers.
"It is both a joy and an honour to be co-producing this project with China Film Animation," adds Yaxley. "We are delighted about the process of joining the best of the China animation industry with the best of the New Zealand animation industry. With the help of our friends from Qi Tai and Stratagem Entertainment, this is the beginning of a close relationship for many years to come."
Fu Leilei, Vice President of Beijing Qi Tai Culture Development Group said, "Our team at Qi Tai are looking for sound investment opportunities from emerging media markets. We are proud to be helping make history between China and New Zealand. We believe this project will strengthen the film industry on an international level."
Stratagem Entertainment granted global distribution of the film:
The representation of distribution rights outside of Greater China for the project has been granted exclusively to Stratagem Entertainment & SMI Entertainment by Jun Huang, CEO of China Film Animation and Trevor Yaxley of Huhu Studios.
"We are excited and honoured to be working with China Film Animation's Mr. Huang, Huhu Studios and Qi Tai Culture Development Group on this first and historic deal between China and New Zealand. Beast of Burden is the first of many feature films that we plan on making as a team together," says Cerenzie.
"I have worked very closely with Mr. Yaxley for the past several months in structuring the deal and have been extremely impressed by both his creative and keen business acumen. I have had the pleasure of meeting with Mr. Huang in Beijing over the recent weeks, and feel that now, with the final addition of Qi Tai, it makes the group complete" adds Cerenzie.
William Morris Endeavor has come aboard to handle the US domestic distribution of Beast of Burden and the subsequent films for the group, led by Graham Taylor, Head of Global Finance and Distribution.
With full movie production beginning this month, China Film Animation Studios will be releasing Beast of Burden in theaters in China in 2016.
The teaser trailer for the film may be viewed at http://www.beastofburdenmovie.com. For further information, contact: info@beastofburdenmovie.com.
See related news: China-New Zealand Animation 'Beast' Set to Shoot (Variety).
For inquiries on global distribution contact: Stratagem Entertainment.
ABOUT HUHU STUDIOS LIMITED
Huhu Studios is a group of creative and training centers, headed up in Auckland New Zealand. Huhu has additional studios in Taipei and Beijing which specialize in 2D and 3D animation formats. For 6 years the group has worked closely with China based clients, delivering a wide range of creative requirements including animated Movies, long form TV series, advertising, Television Commercials, Theme Park Designs and consultation. Beast of Burden will be Huhu's first feature movie to be co-produced with a China based partner.
ABOUT CHINA FILM ANIMATION
China Film Animation is a subsidiary of China Film Group Corporation; the largest and most influential state-run film enterprise in China. It is also the only importer of foreign films in China and a major exporter of Chinese films. China Film Group is involved in a variety of businesses which include film and television production, film distribution and exhibition, film importation and exportation, cinema circuit management, digital cinema construction, print developing and processing, film equipment management, film and TV CD production, ancillary products, advertising, property management as well as real estate.
ABOUT QI TAI CULTURE DEVELOPMENT GROUP
Qi Tai Culture Development Group was established as a media company specializing in Entertainment Integrated Marketing since 2008. Qi Tai conducts a wide range of sophisticated services, including Film Project Investment, Production and Marketing, Events Planning and Execution, Media Public Relationship, Advertising, New Media Technology Development, Online Entertainment Program Development. This means Qi Tai employs a multi-channel, fully integrated approach to take care of their clients, and all under one roof. After 6 years' development, Qi Tai has become an influential culture development group, comprising four powerful subsidiaries working across a variety of genres. Beast of Burden will be Qi Tai's first co-production feature film orchestrating with New Zealand based partner.
ABOUT STRATAGEM ENTERTAINMENT
Stratagem Entertainment is a global entertainment company with expertise in creative development, production, production services, treaty co-productions & finance headquartered in Toronto with offices in New York. The company specializes in cross border fluidity for film and television production and finance. Over the past 20 years, Founder/Chairman Michael Cerenzie has raised over $800 million USD in slate financing and co-production deals worldwide and executed projects in the US and international markets working with the world's leading filmmakers, producers, talent agents, managers, television and studio executives in Hollywood, New York and internationally. Stratagem believes in producing content without borders and is actively developing and producing global content via treaty and non-treaty co-production deals that include Canada, UK, China, France, Germany, Italy, Australia, South Korea and New Zealand.