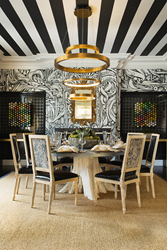 San Francisco, CA (PRWEB) April 22, 2015
San Francisco based designer Cecilie Starin is pleased to present Street Soirée, a dining room that juxtaposes raw street art with glamorous design. Long fascinated with street art, Cecilie is collaborating with Ian Ross to create an iconic mural to adorn her room's walls. An advocate of the Maker Movement, Cecilie's room features furnishings and accessories produced by local craftsmen.
Ian's bold black and white abstract imagery mimics the repeating patterns of ocean waves and the wild flora of Northern California. An established San Francisco artist, Ian's work has not only graced the local landscape but also the offices of tech companies such as Facebook, Google, and Lyft.
Cecilie selected elegant furnishings to create an environment where urban street life and upscale glamour collide. A gilded Louis XV style mirror hangs above the fireplace, flanked by a pair of Ian Ross' "Spray Can" sculptures made from recycled aerosol paint cans. The designer put a fresh spin on classic pieces, upholstering a set of classic Louis XVI chairs in black patent leather and juxtaposing them with a modern Groundwork Group tree root base dining table. The overall effect results in a chic mix of contemporary, classical and natural elements.
Cecilie brought the natural world inside with a sustainable sisal rug from Stark Carpet, a Living Green centerpiece, and biomorphic Europa sconces from Coup d'etat. Many of Cecilie's showroom furnishings are handcrafted, such as the root table, hand carved Aedicule mirrors, and gold trim plates by Lorna Newlin.
The 2015 San Francisco Decorator Showcase is located at 3630 Jackson Street and will be open from April 25 through May 25, 2015. The house will be open on Tuesdays, Wednesdays, Thursdays and Saturdays from 10am to 3pm, Fridays from 10am to 7pm, Sundays and Memorial Day from 11am to 4pm, and closed on Mondays (except Memorial Day). Tickets are $35 for general admission, $30 for seniors and students, and all proceeds will be donated to the University High School Scholarship Fund. More information on the Showcase or the Scholarship Fund is available at http://decoratorshowcase.org.
About Cecilie Starin
Cecilie brings the eye of an artist to her projects, having trained to be a fine art painter at the University of California at Davis. For her, every room is a still life. President and designer at Cecilie Starin Design Inc., Cecilie combines contemporary, classical and global elements to create looks that are refined yet fresh.