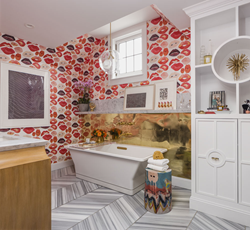 San Francisco, CA (PRWEB) April 22, 2015
Marin based designers Jennifer Wundrow and Heather Brock of Nest Design Co. are thrilled to announce Lip Service, a vibrant kiss-themed bathroom. Inspired by the space's intimate and feminine nature, Nest Design Co. selected a daring lip print wallpaper to serve as the basis for their design. A striking pattern of crimson, tangerine, and blush lipstick kisses, the Voutsa wallpaper is both playful and sophisticated.
With its luxurious materials and exquisite pieces, Lip Service has a sumptuous, feminine feel. The bathroom is outfitted with strong sculptural pieces such as a Kohler freestanding cast-iron tub and Emporium Home custom inlaid horn vanity. Unafraid of mixing prints, the designers selected a marble chevron striped floors inlaid with brass intaglio to accompany the bright wallpaper. The room is finished with delicate details that include a Lindsey Adelman jewelry-like light fixture from The Future Perfect and mirror from Oomph.
Nest Design Co.'s Lip Service is a fresh take on the bathroom inspired by the strong, sexy woman that lies beneath the lipstick.
The 2015 San Francisco Decorator Showcase is located at 3630 Jackson Street and will be open from April 25 through May 25, 2015. The house will be open on Tuesdays, Wednesdays, Thursdays and Saturdays from 10am to 3pm, Fridays from 10am to 7pm, Sundays and Memorial Day from 11am to 4pm, and closed on Mondays (except Memorial Day). Tickets are $35 for general admission, $30 for seniors and students, and all proceeds will be donated to the University High School Scholarship Fund. More information on the Showcase or the Scholarship Fund is available at http://decoratorshowcase.org.
About Nest Design Co:
Nest Design Co. is all about coming home to a place you love. Because we understand that design is fundamentally about personal living, our spaces energize and inspire … comfort and embrace … breathe and grow.
Distinguished by visual texture, storytelling details and functional elegance, our designed interiors capture the unique personalities of our clients. Chic, whimsical, refined or sexy, these spaces sing with expression.
Whether you desire a full-scale renovation, a consultation about paint colors or help selecting just one perfect piece of decor, Nest Design understands the importance of your needs. Detail-oriented, we also pride ourselves on maintaining preliminary budgets and strict deadlines.
Distinguished through their distinctive practice, designers Jennifer Wundrow and Heather Brock have been approaching each project cooperatively since Nest Design was founded in 2009. Since their first conversation over a serendipitous glass of wine, Jennifer and Heather have recognized the creative synergy of their collaboration. As two heads are truly better than one, clients benefit from Jennifer's talents for classic interiors, space planning and traditional furnishings, as well as Heather's passion for modern design, graphic textiles and clean silhouettes. Distinguished by expressive colors, bold patterns, sumptuous textures and an adventurous mix of pieces across different styles and eras, the combination is dramatic, and the resulting spaces feel both timeless and fresh.
Somewhere between classic and modern, Jennifer and Heather realize each client's unique vision – and create homes where life's moments unfold beautifully.