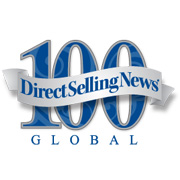 In just five years, we have built a strong, sustainable business based on one of the most exciting technologies on the market today.
Salt Lake City, UT (PRWEB) April 23, 2015
Direct Selling News magazine, the leading publication for the direct selling industry, has ranked ASEA company No. 98 on the sixth annual DSN Global 100, an exclusive ranking of the top revenue-generating direct sales companies.
Trish Schwenkler says, "It's wonderful to be working with a top notch company like ASEA and breaking into the top 100 is validation of where we are headed. We (Trish and her husband/business partner Bob) know that the company's strategic plans will advance this strong showing in years to come. We are in this for the long term."
The 2015 list is featured in the June issue of Direct Selling News magazine and the list represents aggregate revenue of $82 billion from companies based in 14 countries.
"The DSN Global 100 ranking is more than a list of who's who and what was accomplished in terms of revenue for the prior year," said John Fleming, Publisher and Editor in Chief of Direct Selling News. "By doing the research and publishing such a list, we spotlight the contributions that the top direct selling companies are making in communities and economies around the world."
The Global 100 ranking is based on net revenue before commissions are paid and without any value-added tax. In an effort to support transparency and verify authenticity, DSN requires each company to submit a Revenue Certification Form (RCF) signed by the CEO and CFO or designated agent.
Trish & Bob Schwenkler are Triple Diamond Independent Associates of ASEA, LLC and owners of OurGlobalHomeBusiness.
ASEA, LLC which launched in late 2010, manufactures the world's first and only Redox Signaling supplement. These Redox Signaling Molecules in ASEA support the vital activity of cellular repair and replacement that are necessary for optimal cellular health.