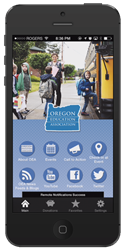 We can move beyond purely passively broadcasting information to our membership and actively engage them to take actions to help us reach our vision of improving the future of all Oregonians - Hanna Vaandering
Portland, OR (PRWEB) April 22, 2015
The Oregon Education Association (OEA) today announced the release of their iPhone and Android applications. The applications were developed to engage the OEA members, politicians and the public on the most popular mobile app devices in the marketplace today. The mobile application includes a location-enabled event and office finder application to allow members to find events and offices wherever they are in Oregon. In addition, the application allows the members to aid in the advocacy initiatives for the union and include access to the association's social media feeds, videos and the latest news.
The mobile apps were also developed to allow the OEA to send push notifications to their members and the public with their latest news and updates. Push notifications are a useful way of getting up to date information on-the-fly. Public service announcements, advocacy and media updates are a few of the possible uses of the push notification feature.
"This App will allow us to stay connected with our members and share the latest news and events," said Hanna Vaandering, President of the OEA. "We can move beyond purely passively broadcasting information to our membership and actively engage them to take actions to help us reach our vision of improving the future of all Oregonians."
The Oregon Education Association's mobile applications are developed and maintained by Purple Forge. Purple Forge is the world's leading provider of mobile applications to associations and advocacy organizations, and they have deployed apps for other state chapters of the NEA, including Ohio, Michigan, and Alaska.
"The Oregon Education Association have taken a very technologically progressive step forward in employing mobile technology to connect with its members," shared John Craig, VP Sales and Marketing of Purple Forge. "In turn their members will be able to be activated to spread their message, and help deliver on their campaign goals of supporting education across the state."
About Purple Forge
Purple Forge sells subscription based services to organizations looking to engage their stakeholders using the latest mobile application technology and leveraging community engagement and social networking best practices. Purple Forge is an award-winning firm led by seasoned mobile communications and Internet technology veterans. Our mobile applications allow organizations to broadcast, share, and receive feedback from their target audience real-time, allowing them to foster long-term, engaged relationships.
About the Oregon Education Association
The Oregon Education Association (OEA) is a union that represents about 45,000 educators working in pre-kindergarten through grade 12 public schools and community colleges. OEA's membership includes licensed teachers and specialists, classified/education support professionals (ESPs), community college faculty, retired educators, and student members. OEA members also belong to the 3.2 million members of the National Education Association (NEA).
Contact: Meg Krugel, meg(dot)krugel(at)oregoned(dot)org