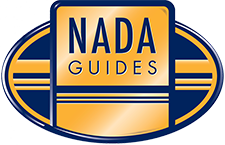 For NADAguides to be ranked the highest of all third-party sites by J.D. Power in its annual evaluation study is a true honor.
Costa Mesa, Calif. (PRWEB) April 22, 2015
NADAguides, the leading provider of new and used vehicle pricing and car shopping information, is honored to be named the highest-ranking Third-Party Automotive Website by J.D. Power.
The J.D. Power 2015 Third-Party Automotive Website Evaluation Study℠ findings were released on March 30, 2015 and measures the usefulness of automotive third-party websites during the new- and used-vehicle shopping process. In order to be included in the evaluation study, the website must be an automotive third-party site that allows the consumer to shop for both new and used vehicles and be among the most frequently visited based on behavioral data. The specific criteria examined in the study included: information/content, appearance, navigation, and speed. This year marked the third year for the study.
Of the 16 websites included in the study, NADAguides received the highest ranking with a score of 768 points out of a possible 1,000. NADAguides is also the only contender to receive an "among the best" rating in Power Circles on JDPower.com in all four areas examined, as well as in overall satisfaction. The 2015 Third-Party Automotive Website Evaluation Study is based on evaluations from more than 5,000 new- and used-vehicle shoppers who indicate they will be in the market for a vehicle within the next 24 months. The study was fielded in January 2015.
For additional information, please refer to the J.D. Power press release, as well as the complete evaluation ratings.
"We are passionate about providing the best consumer car research experience possible. We never stop searching for a better way to present our breadth of data and car shopping tools. In our world, "user-friendly" changes every day across all platforms and we are relied on to react swiftly and publish the most insightful, comprehensive and dependable information available in the marketplace. For NADAguides to be ranked the highest of all third-party sites by J.D. Power in its annual evaluation study is a true honor and a testament to our commitment to laser focus and dedication of our market analysis, engineering, quality assurance and product development teams," Troy Snyder, NADAguides COO.
About NADAguides
NADAguides is the largest publisher of the most market-reflective vehicle pricing and information available for automotive, classic cars, motorcycles, boats, RVs, and manufactured homes. NADAguides offers in-depth shopping and research tools including, a broad range of data, products and services. NADAguides also produces software, mobile applications, raw data, web services, web-syndicated products and print guidebooks. NADAguides is an alliance partner of NADA Services Corporation.