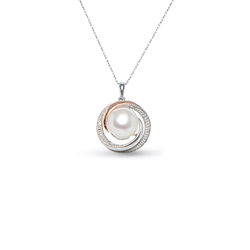 Since time immemorial, pearls have been the emblem of a timelessness that perfectly represents the eternal love of a mother, which makes them the ideal gift to spoil mom with!
Montreal, Quebec (PRWEB) April 22, 2015
Mother's Day was originally founded in 1908 by a woman named Anna Jarvis who encouraged the expansion of Mother's Day following her own mother's death. It became an official American holiday in 1914 and has since been widely celebrated in most countries on every second Sunday of the month of May.
This popular holiday can be traced back to an early Christian festival called "Mothering Day" during the fourth Sunday of Lent in which the faithful were encouraged to attend their main "mother" church for a special service. In time, the holiday became increasingly secular as children would offer their mothers small gifts and flowers, and eventually merged with the American Mother's Day in the 1930s.
On average, the total annual amount of money expected to be spent on American mothers for Mother's Day amounts to $20.7 billion dollars. Among the most common gift categories offered to moms on their special day are dinner, cards, flowers and jewelry.
Today, jewelry is one of the most popular gifts offered to mothers across the world because of the precious and lasting appeal that a special piece of jewelry holds, especially when gifted during as intimate an occasion as Mother's Day. Jewelry as a gift signifies an eternal keepsake that a mother can treasure for life in reminder of a day that celebrates and appreciates her.
Since time immemorial, pearls have been the emblem of a timelessness that perfectly represents the eternal love of a mother, which makes them the ideal gift to spoil mom with!
Nishi Pearl's exclusive Mother's Day promotion includes specially selected pearl jewelry items appropriate for mothers of all ages.
In selecting the items for this promotion, Nishi Pearls chose designs that captured the most quintessential qualities of motherhood. Accordingly, pastel pink pearls, layered necklaces and diamond accents are among some of the most prominent highlights of their Mother's Day Collection.
The featured items include natural pink cultured freshwater pearls in a matching necklace and bracelet set that is classic and versatile, with the colour of the pearls making it a fresh alternative to your traditional white pearl strand. Another featured item includes a 64.5 inch long white freshwater pearl necklace that is detachable into 4 separate strands, being one of their most versatile items to adopt an easy, adaptable and effortless look.
Nishi Pearls' Mother's Day promotion incorporates pieces that are as timeless as they are trendy. Treat your mom to a memento that will remind her of her special place on this special day.
Nishi Pearls™ is a brand that specializes in designing and creating a wide range of genuine cultured pearl jewelry that creates the perfect marriage between classic and contemporary. With offices located in Asia, Canada and the U.S.A, Nishi Pearls has been making its mark at some of the most prominent international jewelry fairs including the Jewelers International Showcase, the Orlando Duty Free Show of the Americas and the Jewelers' Circular Keystone's (JCK) annual trade show in Las Vegas, to name a few.
Nishi Pearls' dedication to quality is reflected in its partnerships with leading professionals, including their latest co-branding endeavor with Swarovski as well as Air Canada's Inflight program. Their award-winning jewelry is inspired by the consumer of today and the fashion of tomorrow.
Visit them at: http://www.nishipearls.com/online/