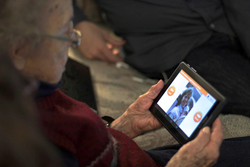 Our mission is to make an impact on millions of seniors by bridging the digital divide that exists between seniors and their families.
Orange, CA (PRWEB) April 22, 2015
GrandPad is pleased to announce that a documentary about its tech product for seniors, will be featured nationally on PBS this month. The piece is set to air in Southern California on PBS SoCal on Friday, April 24th at 5:30 p.m. local time on the show SciTech Now, a periodical that revolves around breakthrough technology, science, and innovation.
"We are very excited to be able to have such a privileged spot on public broadcasting," Scott Lien, CEO and co-founder, says. "Our mission is to make an impact on millions of seniors by bridging the digital divide that exists between seniors and their families."
Watch the full episode of SciTech Now featuring grandPad here.
The documentary, produced by Chapman University, illustrates how grandPad can address the digital divide between seniors and their families. The grandPad was tailored to specifically meet the needs of seniors from the very beginning. Isaac Lien, co-founder, comments that interfaces in today's technology don't revolve around "innate human ways of interacting," and the best way to help seniors connect is to simplify.
The grandPad was designed from the ground up "with an eighty year-old in mind." The key to making grandPad simple is software engineering excellence and the Computer Science Department at Chapman University in Orange, CA, has been a key partner.
Dr. Michael Fahy, Associate Dean of the School of Computational Sciences, comments: "grandPad has solved some very difficult software engineering challenges and it is exciting to see the impact that Chapman Computer Science alumni made in such a short time."
GrandPad was incubated at Launch Labs, located at Chapman University. The Lab's purpose is to promote entrepreneurship and to provide a venue in which it can thrive; a petri dish for innovation. Shan Steinmark, Ph.D, Director of the Leatherby Center for Entrepreneurship and Business Ethics which houses the lab says"grandPad is a perfect model for how the Launch Labs can help incubate an early stage startup and help accelerate their growth."
A large portion of the grandPad team itself consists of students, faculty, and alumni from Chapman University. Gene Alexander, Ph.D, Director of the Launch Labs and advisor to grandPad says: "The grandPad team has fully embraced the Lean Startup principles that we teach and that are documented in the PBS Scitech Now documentary. Putting the customer at the center of the innovation process has been key to their success."
grandPad was founded on the idea that current digital communications technology should be accessible to seniors. The mission behind the grandPad is that technology should be intuitive, engaging, transparent, and not complex. grandPad has created a simple tablet that connects and helps seniors communicate easily with family and friends. Simple joys should be simple to share.
More information about grandPad including how to purchase one is available at http://www.grandPad.net