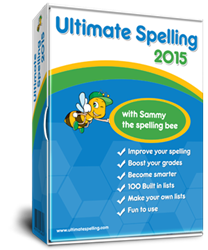 To learn how to spell is a victory in its own right...
New York City, NY (PRWEB) April 25, 2015
Ultimate Spelling™ and eReflect congratulate Christopher McCarthy for his victory at the spelling bee competition in Westmeath County, Ireland, eReflect announces. The Westmeath County Bee, which took place in Gaelscoil Mullingar, had twenty young spelling enthusiasts from across the county as participants. The contest's winner was Christopher McCarthy, who attributes his spelling bee victory to a love for reading and spelling, activities that he engages in daily, as he told the press after his victory.
With his spelling bee victory, Christopher's next stop is the Provincial Spelling Bee in which he will compete against fellow spelling enthusiasts. The spelling bee events will culminate in June, when the four provincial winners will go all out for a chance to be crowned the 2015 Eason Spelling Bee champion. As the Westmeath Examiner reports, 1,100 schools from across 32 counties are already partaking in the 2015 competition. According to coverage in Eason Edition,
"The audience were treated to some magnificent spelling by all of our spellers but after an impressive knockout round it was Christopher Mc Carthy from Coralstown N.S, who rose above the rest to claim the title of Westmeath County Champion. Christopher will now go on to represent his county in the Leinster Final in May."
eReflect wishes to congratulate Christopher for his qualification and victory, and wishes good luck to all participants in the upcoming Provincial Spelling Bee.
To learn how to spell is a victory in its own right, as the English language is a complex one with numerous spelling exceptions and erratic phonological and morphological patterns. While programs like Ultimate Spelling™ help young students improve spelling easily, a rigorous immersion in reading and writing can help any young student improve his or her spelling skills, as Christopher's victory confirms.
eReflect looks forward to the Leinster Final and is confident the best speller will be crowned the Eason Champion for 2015.
***********
For more information about how Ultimate Spelling software can improve spelling performance for you and your family, please visit the official website at http://www.ultimatespelling.com.
About Ultimate Spelling™
Ultimate Spelling provides a modern and easy to use spelling software that has been designed with one goal in mind – making children want to learn.
It is a fast and easy way to master even the most complicated spelling, without the need to write long lists or complete boring tests.
In fact, Ultimate Spelling provides more than just spelling help. It is a complete educational resource that boosts all level of a child's literacy.
Containing a personal computer tutor, Ultimate Spelling is the most realistic step-by-step guide to flawless spelling ability.