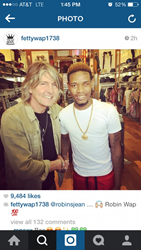 (PRWEB) April 23, 2015
In March, 2015, When Robin found out the artist would be performing at a showcase at SXSW in Austin, Texas, he wanted to make sure the young rapper would look great on stage, so he sent a package of jeans and t-shirts to wear during his performances for good luck.
When the singer announced to him that he had an interview with the LA Times, Robin offered to host the meeting at the Robin's Jean Beverly Hills Flagship store. He and Fetty got a chance to meet face to face and it was an instant "bromance". The two bonded over fashion, cars and their dreams. Robin led a personal tour of the shop and gave Fetty a leather motorcycle vest that he had made for the occasion as a token of their friendship.
Fetty Wap is at the top of Billboard's Hot 100 music chart with his hit song "Trap Queen" and Robin will support his buddy as he continues to climb the charts. In his latest appearance, Fetty Wap made his national television debut at the 2015 MTV Movie Awards on April 12th, in a rock/ rap mashup with Chicago indie rockers, Fall Out Boy. The crowd went wild when Fetty joined the band onstage, wearing Robin's Jean "The Show" motorcycle pants, and sang the anthem of 2015, "Trap Queen".
Loyalty means a lot to both Fetty Wap and to Robin Chretien, so it's not too soon to say that this budding friendship will be a lasting one.
Founded in 2005 by Robin Chretien, the LA based premium denim brand sells jeans, leather belts, shoes, t-shirts, hoodies, and leather jackets for men, women and children. The brand's signature gold wing logo is an eclectic combination of modern biker style with Native American influences which symbolize freedom.
Robin's Jean is Made in the USA and there are currently five Robin's Jean stores in Beverly Hills, CA; Soho, New York; Laguna Beach, CA; Garden State Plaza, NJ, and Park City, Utah - the latest flagship location.