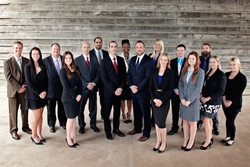 Any time a campaign like this is implemented it means a heavier amount of scrutiny of Texans.
Houston, Texas (PRWEB) April 22, 2015
Holidays like Cinco de Mayo are commonly celebrated with parties and alcohol, resulting in dangerous roads when people don't drink responsibly. This is especially an issue in Texas, which led the nation in drunk driving fatalities in recent years, with 1,337 deaths in 2013, according to Mothers Against Drunk Driving.
Daily, 30 people in the U.S. are killed in car accidents involving alcohol-impaired drivers. That's one person killed every 51 minutes, the Centers for Disease Control and Prevention reports. These numbers are likely to increase during festivities that typically revolve around drinking, like Super Bowl Sunday and Cinco de Mayo.
"Too often, people are preoccupied with having a good time and partying, and don't think of getting home safely until the end of the night," said Corso & Rhude founding partner Christopher Corso. "This becomes a problem when the wrong choices are made, and intoxicated drivers get behind the wheel."
Last year on Cinco de Mayo, the Texas Department of Transportation launched the "Drink. Drive. Go to Jail. De Veras." campaign to discourage drunk driving, especially among young Hispanic men. Findings from TxDot reveal that half of male drunk drivers 17-34 years old were Hispanic, according to the Houston Chronicle.
"Any time a campaign like this is implemented it means a heavier amount of scrutiny of Texans," Corso said. "That means you need an experienced DWI lawyer on your side in order to protect your rights."
In addition to the potential injuries and deaths caused by drinking and driving, Texas law requires all DWI offenders, even first-time offenders, to spend at least three days behind bars, according to Corso.
Corso & Rhude have handled more than 40,000 cases, with 20,000 involving drunk driving. Together, they have a combined 40 years of legal experience.
To schedule a free consultation with Corso & Rhude, visit http://www.corsorhude.com or call (713) 231-0499. The Houston law office of Corso & Rhude is located at 5177 Richmond Ave., Suite 1250, Houston, Texas 77056