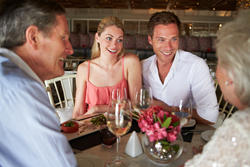 Glendale, Arizona (PRWEB) April 22, 2015
This Mother's Day, Arizona families are invited to celebrate the most important woman in their lives with a decadent three-course Mother's Day experience at Arrowhead Grill from 11 a.m. to 3 p.m. on May 10.
With delicious starters and sides, entrée choices that will appeal to the entire family and a list of decadent desserts that will have everyone clamoring for more, Mother's Day at Arrowhead Grill is an experience not to be missed.
It all begins with the choice of a starter. Guests will indulge in one of a delicious variety of salads or soup, including AG's famous Caesar or house salad, chopped salad, the AG salad, mixed greens tossed in citrus honey mustard vinaigrette with a delicious assortment of dates, mission figs, dried cranberries, pears, candied pecan and goat cheese crumbles, or sweet Ambrosia salad offered especially for Mother's Day. Diners can also choose from authentic French onion soup or creamy clam chowder.
An exceptional choice of entrées make Mother's Day at Arrowhead Grill an experience that everyone in the family will savor.
Patrons will choose one of a fresh selection of seafood or hand-selected steaks, such as parmesan or macadamia crusted Atlantic salmon or swordfish, an 8-ounce portion of tender prime rib, a 6-ounce filet wrapped in Applewood bacon, an 8-ounce portion of AG's Signature Delmonico Steak, or enticing choices like a half-rack of New Zealand Lamb and a lovely, seasoned roasted chicken.
Mother's Day at Arrowhead Grill continues with the choice of one of eight of its most beloved side dishes, including sautéed asparagus, sautéed green beans, mashed potatoes, maple mashed sweet potatoes, baked potato, creamed corn, creamed spinach or sautéed mushrooms and onions.
An 8-ounce lobster tail can be added to any entrée for $14.99.
Mother's Day revelers are invited to indulge in a final course, a selection of decadent desserts that include delicious, gluten-free choices moms will adore, like strawberries and chocolate fondue and a delightfully rich flourless chocolate cake. Additional choices include AG's famous butter cake, classic cheesecake, key lime pie, a warm chocolate chip cookie served with vanilla ice cream or vanilla crème brûlée, $5.99 each.
The Mother's Day Experience at Arrowhead Grill is $42.99 per person. Reservations are required and can be made by calling (623) 566-2224 or online at http://www.arrowheadgrill.com/reservations.
A children's menu is available throughout the day by request.
Arrowhead Grill's full menu will be available from 4 to 9 p.m., for those who wish to celebrate Mother's Day with a formal dinner.
Known as the west Valley's best steakhouse, Arrowhead Grill is located at 8280 W. Union Hills Dr., Glendale, AZ 85308.
To get the latest news on Arrowhead Grill's daily specials, follow Arrowhead Grill on Twitter at http://www.twitter.com/arrowheadgrill or on Facebook at http://www.facebook.com/arrowheadgrill.
About Arrowhead Grill
Established in 2008 by renowned Valley chef Charles Wade Schwerd, Arrowhead Grill epitomizes Schwerd's two decades of steakhouse experience, offering Valley residents a diverse menu of top quality steak and seafood items. Featuring all natural meats and fresh, mercury-free seafood selected especially for Arrowhead Grill's host of menu items, the Glendale-based restaurant offers something for everyone in a setting that's unpretentious yet sophisticated. For more information, please visit http://www.arrowheadgrill.com.