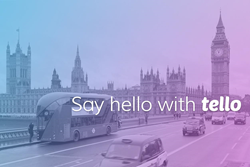 London, UK (PRWEB UK) 27 April 2015
KeepCalling partnered with x-Mobility to launch the newest MVNO on the UK market: tello. The partnership between KeepCalling, a telecommunications company with over 12 years experience and x-Mobility brings the most affordable and easy to use telecom solutions to people living in the UK. Mainly designed as a money-saving solution for UK customers, tello is also an affordable way used by immigrant communities living in UK to stay in touch with their family and friends back home. With just one SIM, users can get Pay As You Go credit or bundles with international and national minutes, text messages and data.
Why a new mobile SIM in UK? Because tello, the new mobile SIM offers the best deals for national and international calls, texts and data. Plus, x-Mobility, the mobile virtual network aggregator offers tello excellent advantages and high quality infrastructure.
PAYG pricing:
Tello offers very affordable rates, as compared to other PAYG mobile networks. While rates can easily reach 25p/minute for calls and 10p per text when using other services, tello only charges 3p/minute for UK calls and 3p per text message.
National bundles:
For forgetful customers or for those used with phone contracts, tello offers attractive bundles, that combine UK calls with texts, or calls with texts plus data, depending on their needs.
So, for only £14/month, customers may choose Smart 500, receiving 500 minutes for UK calls, 50 SMS and 500 MB. In case this is not enough, for £10 more, which means £24/month, customers receive Smart 1000: 1000 minutes to call UK, 100 SMS and 1000 MB.
In case internet is not a necessity, customers may give it up and choose UK 500 (500 minutes + 50 SMS) for only £10/month or UK 1000 (1000 minutes + 100 SMS), for only £20/month.
In case internet is the only option, tello has this covered, as well: Data 500, providing 500 MB for only £4/month, Data 1000, offering 1000 MB for only £7/month or Data 3000: 3000 MB for £15/month.
International PAYG rates and bundles
Since UK expat communities are so large, tello has special offers for them, too. For instance, calling Nigeria is only 1p/min for landlines and 4.3p/min, whereas calls to Thailand cost only 2.5p/min for both landlines and mobiles. Tello's Bundles offer is even more attractive: for instance, calls to Bangladesh may be as low as 1.8p/min, with Bangladesh 1000.
Through the online account, customers may easily purchase the bundle and their bank account is automatically debited each month until they no longer use the service. Bundles may be cancelled at any time, with no penalties.
The amazing rates, the high quality of calls, the smart bundles, tailored to suit every need are some of the features tello offers its customers. The great coverage is another advantage when using tello, as it runs on Three network infrastructure, well-known for the excellent signal strength and internet speed. All these advantages are within the same mission tello revolves around: offering a money-saving solution to UK customers and helping expat communities keep a close relationship with families and friends back home in their mother countries.
About tello
tello.co.uk is an interactive website designed by KeepCalling, offering calls, texts and data to UK customers in need of a friendly and easy to use phone service. Tello was created having one single goal in mind: offer a clean, affordable service for expats living in the UK who need to call home and also need a SIM for local calls and internet traffic.