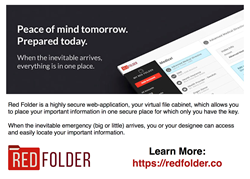 "We are extraordinarily pleased to support the Women With Drive Foundation" ~Christopher Burgess
Woodinville, WA (PRWEB) April 28, 2015
Prevendra, Inc. announces today the availing of Red Folder to the Women With Drive Foundation (WWDF), for the foundation's financial literacy program participants. The issuance of the subscriptions was made possible by a donation from Prevendra of the individual Red Folder subscriptions to WWDF. Red Folder gives the individuals the means to ensure their heirlooms, historical medical data, estate planning documents, online accounts, digital assets, email, social networks, real estate, bank accounts, annuities and insurance policies, etc., are accessible and in time of need.
Women With Drive Foundation has begun awarding cars to deserving program participants. The first recipient is a woman who was orphaned at 13. Her mother died when she was six and her father a short seven years later. The recipient had a promising future in sports, but as sometimes happens when children lose their parents, she made some poor choices and paid the price. Now, at age 27 and fully committed to changing her life, she is employed as a welder, having graduated from a WWDF partner agency (Jane Addams Resource Corporation's) vocational program.
Women With Drive Foundation executive director, Molly Cantrell-Kraig, said, "As the saying goes, we can't do her pushups for her, but we can make sure that the gym is always open. Keeping her moving forward will require investment." She continued, "To 'keep the gym open,' we are delighted to partner with Prevendra. Christopher Burgess has graciously offered to not only donate memberships to our participants, but Prevendra will donate 25% of all paid Red Folder subscriptions acquired through WWDF to the foundation."
Red Folder is uniquely well suited as a powerful resource to the members and supporters of Women With Drive Foundation, as it is an innovative service keeping both online and offline accounts and instructions in an orderly manner during their period of transition and in the event of an emergency.
Molly Cantrell-Kraig continued, "The importance of Red Folder for me, especially when considering the mindset that "poor women" may have when it comes to financial literacy is the value of choices. Choices are a material good. Having control of yours is power. When I was a single mom without two pennies to rub together, I still had a will, advanced life directives and a Trust established for my three daughters. It gave me a sense of security knowing that, even if I couldn't be there will my daughters should the worst occur, my wishes would be known and followed. That's worth something."
Christopher Burgess, CEO Prevendra and creator of Red Folder said, "We are extraordinarily pleased to assist the Women With Drive Foundation and for the foundation to avail Red Folder to the community which supports their efforts. Red Folder's affinity program will create an ongoing stream of donations to help the foundation cover overhead and fund future programs, or as Molly says, 'keep the gym open.'"
=====
About Prevendra & Red Folder:
Prevendra is a safety, security, privacy and intelligence entity, a leader in sharing knowledge and solutions which keep individuals and companies safe and secure, online and off. Established in 2013, the privately-held company is located in Woodinville, Washington. Prevendra: http://prevendra.com.
Prevendra' Red Folder is a highly-secure web application offering users peace of mind tomorrow, by being prepared today for life's interruptions, big or small. Red Folder places your information at you or your designated trustee's (designee) fingertips in time of need. Red Folder: https://redfolder.co
About Women With Drive Foundation
The Women With Drive Foundation fund is a component fund of the Community Foundation of Greater Muscatine, a 501 (c) (3) nonprofit charitable organization, donations to which are tax deductible to the fullest extent allowed by law. Please make checks payable to the Community Foundation and include in the memo "WWDF". Send to: Community Foundation of Greater Muscatine, 208 W. 2nd St, Ste. 213, Muscatine, IA 52761. You may request a current financial statement from the Community Foundation. Women With Drive Foundation: http://www.womenwithdrive.org/