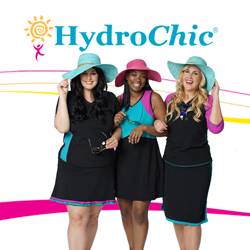 It's extremely gratifying to offer women water wear that doesn't provoke anxiety, swim solutions she can feel confident in, with so much to choose from.
New Rochelle, NY (PRWEB) April 29, 2015
HydroChic, a leading designer of Sun Protective Swimwear and Modest Swimwear, recently launched their 2015 Spring Collection of swimwear to gym wear. This new collection introduces new color palettes to their classic Ultra® Chlorine Proof fabric line and is brightened with beautiful hues of Jade, Violet, Summery Bright Coral and Radiant Yellow. Fusing practicality with style in each piece, HydroChic has created cover up swimwear that is fashion-forward and functional. New versatile swim skirt styles have been added to the line so that women can literally find swim skirts from 15" to 27". Swim & Sun dresses have also been designed for the collection for the first time this year. The HydroChic line offers over 100 items in sizes from girls to plus size 4x. Finally, women everywhere who love to swim, jog, hike and enjoy other sports can now dress in stylish, attractive swimwear that enhances their bodies and boosts their self-esteem without having to fear skin damage from the sun's rays.
Some Key Features of the HydroChic Sun Protective Swimwear and Activewear include:
*Chic Modest Swimwear and coverage options, with a plethora of choices in swimwear for women in Girls, Missy and Plus Size.
*The highest level of UV protection. Products are tested and rated in accordance to AATCC 183 and ASTM D6544, resulting in a UPF 50+ rating.
*Transitional pieces that can be worn in and out of the water, from beach to boardwalk.
*Water wear that is vibrant and fun, giving women the freedom to simply be themselves.The advantage of not having to pull suits up and down all the time is an added bonus.
*A selection of lightweight and quick drying fabrics that are silky and cool, and perfect for outdoor activities in and out of the water.
So many women are seeking alternative swim solutions to the traditional bathing suit, whether for sun or body coverage. "We are proud to offer women such a wide selection of fashion-forward choices to choose from. From the young spirited grandma who boogie boards with her grandson, to the women who feels sexy in our short ruffle skirt, women can find beautiful swimwear solutions that provide just the right amount of coverage so that they can feel confident and chic," says co-founder Daniella Teutsch. In a recent study about bathing suit anxiety, it was found that women preferred to go to the dentist or visit their mother in law over trying on bathingsuits! HydroChic is changing this by offering swimwear solutions that are highly stylish, excellent quality products, that ladies love to wear all day.
The 2015 Spring Line can be viewed and purchased at http://hydrochic.com/
About HydroChic, LLC.
HydroChic, LLC was co-founded by Daniella Teutsch and Sara Wolf, which they opened in May 2008. The idea came to them one day at the Jersey Shore as they watched women of all ages lather themselves with sunscreen and pull on sloppy men's t-shirts over their traditional bathing suits to protect their skin from sun damage. They knew that better, chicer coverage options were missing in the swimwear market, but only then did they realize how many other women were searching for the same swimwear solutions that they were. They set about designing them. The company offers a complete line of girls and woman's sun protective swimwear and active wear with a UPF50+ rating, which blocks over 98% of the sun's harmful UVA and UVA rays. Visit us on Facebook https://www.facebook.com/hydrochicswimwear?ref=hl